RacingBetter News

Monday 20th September 2021
Improving Your Odds at the Races
Options for punters are becoming more accessible around the world, particularly in the US as new legislation is bringing horse betting to many new players as this TVG review shows the best options available – but also means that many newcomers are looking for tips on how to improve betting odds at the races. There are plenty of tips offered that apply to betting in general, but some more racing specific tips can offer a different view, and often help out just that little bit more to improve odds.
Post position matters – There has been a lot of research done into how starting position can have an impact on the outcome of the race, particularly at certain tracks more than others. It may be difficult to understand or grasp at first, all horses are running the same track after all, but it can play a huge role into how the race turns out. It may be a tactical decision by some jockeys to choose certain starting positions which will make up one of the points below, but a little research into race starting positions and the historical impact they've had can have a very strong impact on race odds, and may provide some unexpected wins too.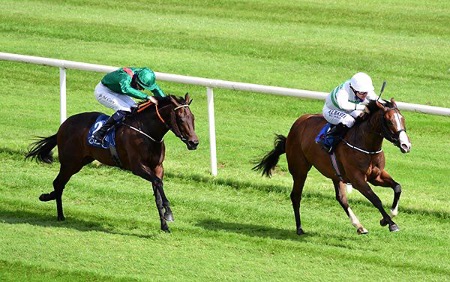 (Image from irishracing.com)
Don't ignore the jockeys either – As mentioned above, whilst all eyes for most punters will be firmly on the horses, the jockeys can play a huge role. Whether this be through tactical decisions before the race starts, or guiding the horse throughout the race, and many jockeys have had a long and successful career and can have a much bigger impact then some newcomers realise. This is especially true where two horses may have very similar odds of winning and the only different factor is the jockey and having a little history on performances on certain tracks can play a key role.
Don't just stick to the favourites – Whilst the bookies will all have their favourite horses for any race, it's important not to put all eggs in one basket and only place big bets on the favourites – upsets do happen regularly in horse racing, and whilst the favourites are the favourites for a reason, having a little diversity in betting patterns can provide a lot of good results. There has been a lot of research done into this and certainly worth reading – a substantial bet on the favourite with some smaller bets on other options is a great option here, rather than placing everything on the favourite.
These are just a few of the many ways players have found to improve odds at the races, but exploring all options will provide the best results – there's a lot of depth to horse racing and the betting involved, and research will only help further.