RacingBetter News

Wednesday 21st July 2021
Developments In Horse Racing Betting Apps Coming in The Near Future
Horse racing is one of the sports that have enthralled sports enthusiasts for centuries. If you happen to have a passion for horse racing, it's highly probable that you do not mind making wagers on the horse races. Well-placed wagers can offer incredibly lucrative returns, making the sport even more exciting.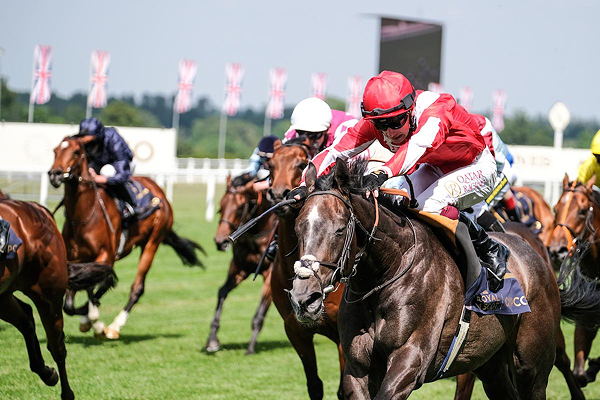 So, what's the best way to place horse racing bets? Well, if you can avail yourself to the venue on race day, then it's possible to place bets with bookies that set up shops near the track.
When not lucky enough to attend the race physically, you can still make lucrative wagers by signing up with one of the leading online sportsbooks and horse racing betting apps on your mobile device and at the comfort of your couch.
Below are some of the developments set to revolutionize mobile horse racing betting apps.
Adoption of Blockchain Technology
Blockchain technology has had a significant impact on industries across the globe, and the sports betting industry has not been immune from the blockchain tech wave. Since the inception of cryptographic forms of currencies, they have turned into a well-recognized concept.
Individuals and organizations alike are actively engaging with this new and incredible innovation to make payments. Cryptocurrencies have gained most of their popularity due to the fact that they are perhaps the most secure form of online payment.
That being said, it's no surprise that online bookies, including horse racing betting apps on safebettingsites.com, are adding cryptos as one of their supported methods of making deposits and withdrawals.
Live Streaming
This is yet another valuable technological advancement when it comes to horse racing betting apps. No one ever deemed it possible to view live horse racing events from sportsbooks' websites and mobile applications, but the idea is more welcome today than ever.
Live streaming on betting apps comes as an added advantage to punters who would love to explore the live in-play markets, hence more betting opportunities.
Enhanced Customer Experience
With stiff competition in the sports betting market, bookmakers are investing heavily in pleasing clients. Bookies are in a race to keep the existing customer base happy and put while attracting new punters.
To remain in business, sportsbooks are being compelled by circumstances to offer a great customer experience. Advancements in betting options have allowed bookies to follow customers' activities, and from the collected data, they can effectively deliver more personalized services in the form of targeted ads and emails.
Computer Generated Reality
This technology has enabled online sportsbooks to prey on the imagination of punters who enjoy the challenge of wagering on horse races, among other sports. Computer-generated realities include virtual reality and augmented reality.
With the former, punters can watch horse races via VR headsets while still placing bets on the same. It's also possible for one to watch computer-generated games. The technology has created tons of opportunities for bookies in that they can now organize virtual competitions for punters to bet on.
Virtual games offer stunning themes and designs that allow gamblers to enjoy almost realistic sports betting experiences on demand.
Safe Payment Options
Online horse racing betting sites across the world are now using encryption technologies to encode their customer's financial and personal information. These technologies have made it impossible for black hat hackers to access sensitive credentials such as passwords and bank statements.
Other companies are known to invest in systems that trade customer data for tokens, which subsequently stores the client's information.
Wider Betting Market Reach
One of the reasons why most gamblers prefer using mobile horse betting apps is the unlimited access to diverse betting markets. Diversity allows you a chance to place wagers on both minor and major races happening across the world.
The Kentucky Derby, The Grand National, the Melbourne Cup, Prix de I'Arc de Triomphe, the Cheltenham Festival, the Belmont Stakes… you name it, future betting apps will cover it all. What's more, they will cover not only the old and boring race markets, but also the new, unique, and exciting markets.
User-Friendly Interface
When placing bets with a mobile app, you do not want to encounter the hassle of figuring out the app's complexities. As a matter of fact, complexity will only serve to defeat the app's primary objective: to offer a convenient way to place real money wagers.
Therefore, it is vital that you only sign up with third party tested and rated horse racing betting mobile apps. That way, you are assured that they are easy to navigate and use. One of the biggest frustrations is using a betting app that looks all clunky, overcooked, or outdated; such apps are a nightmare to get the hang of.
Sportsbooks are investing in offering a smooth, enjoyable, and easy-to-use, and user-friendly interface. The idea is to augment the customer's mobile betting experience.
Great Graphics and Designs
As sportsbooks strive to augment their customers' mobile betting experience, a well-designed app with appealing designs and excellent graphics will make the cut. With the fierce industry competition, online bookies are designing mobile betting apps with both professional and novice gamblers in mind.
One of the factors uniting betting newbies and seasoned punters is a no-nonsense design approach crafted around efficiency.
Fast Payouts
There is nothing as draining and frustrating as having to wait for days before cashing out your winnings. Futuristic bookmakers are cognizant of this fact, which is why they are adopting fast payout options by supporting a plethora of withdrawal methods.
With the right bookie, you can have your winnings within 24 hours after cashing out.
Multiple Banking Options
Everyone loves variety, and as such, finding a horse racing betting app with multiple payment options will help augment your overall betting experience. The best betting apps support numerous banking options, including debit and credit cards like MasterCard, Maestro, Visa, and Diners Club, as well as e-Wallets such as Skrill, Neteller, and PayPal.
Those are great choices, right? That's not all. You can alternatively use cryptocurrencies such as Ethereum and Bitcoin. Other options include cheques, wire transfers, and prepaid cards.