RacingBetter News

Sunday 22nd November 2020
Racing Betting Made Easy with PayPal Casinos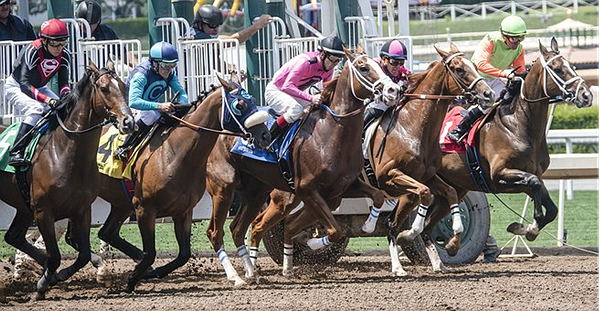 Very few sports have been around as long as horse racing. Its earliest forms have been traced back to around 4500 BC which was 2,000 years before the Great Pyramids of Giza were built. Horse racing was featured in the Olympics as early as 648 BC while the first race to happen in Great Britain occurred somewhere around 200 AD. It is widely believed that the modern version horse racing began in the 12th century when English knights returned from the crusades with speedy Arabian stallions. By the early stages of the 17th century, horse racing was considered a professional sport and betting on organized races had become a large part of it.
Today, horse racing is popular all over the world. It is second only to football in terms of popularity in the United Kingdom. As for the betting aspect? It is estimated that horse racing generates well in excess of $100 billion in wagers every year. Many of these wagers are placed at online sportsbooks and online casinos that accept PayPal and other convenient payment options. The 2017 Grand National drew upwards of 600 million viewers and nearly $400 million in wagers. The Kentucky Derby drew over $250 million worth of bets in 2019.
While some casual bettors pick their horses using unorthodox methods, seasoned bettors take a more vigilant approach by applying horse racing betting strategies. The simplest wagers involve picking a horse to win, finish in the top two, or finish in the top three. Wagers such as parlays, exactas, trifectas, and daily doubles can potentially yield huge payouts. One such payout happened in 2008 when Fred Craggs bet a mere 50 pence on an 8-legged accumulator that was loaded with long shots. Amazingly, all of his selections came through and he walked away with £1,000,000. It was one of the most successful horse betting coups in history. Using a similar strategy, a Scottish man turned his paltry five-pence stake into £203,000 when he hit all eight long-shots on his accumulator in 2018.
It's never been easier or more convenient to bet on horse races. It's not like horse bettors have to show up to the track or go through some back-alley bookie to place their bets. Instead, they can simply place their wagers online using their desktop computers or mobile devices. No matter when or where a race is taking place, horse betting enthusiasts now have the ability to place their wagers from almost anywhere. Many of the best racebooks give bettors access to volumes in-depth horse racing statistics, podcasts, and expert picks. The top sportsbooks also live stream races so punters never have to miss out on the excitement. If, by chance, there are no live horse races going on, there are countless online casinos that feature virtual horse racing round-the-clock.
Beyond the simplicity, using online operators for placing horse racing wagers has other benefits. For starters, almost all online bookmakers offer generous bonuses to new customers. These bonuses usually come in the form of bonus cash, free bets, or risk-free bets. You can even get no-deposit bonuses for horse race betting at some sites just for signing up. Offers like these are ideal for anyone who wants to enjoy the thrill of betting on horse races and winning real cash without risking their own money.
Then there are the ongoing horse racing promotions. Enhanced odds give you a chance to win even more money while acca insurance can turn a losing parlay into a winner. Some bookies will refund your stake or give you a free bet if the horse you pick to win finishes second or third. Don't forget about cashback offers and loyalty rewards either. Why wouldn't you want to earn cash and other perks when you bet on horse races?
Whether you are a beginner or an experienced horse racing aficionado, placing your bets at a respected online bookmaker is the way to go. Choosing an online sportsbook or casino that accepts PayPal makes it even better. Bonuses, promotions, loyalty programs, and all the wonderful features such as live streaming ensures your horse racing betting experience is all that it can be. Who knows? You might even replicate Fred Cragg's incredible feat. One can always dream.