RacingBetter News

Friday 27th November 2020
Horse Racing VS Greyhound Racing: Which Is Better?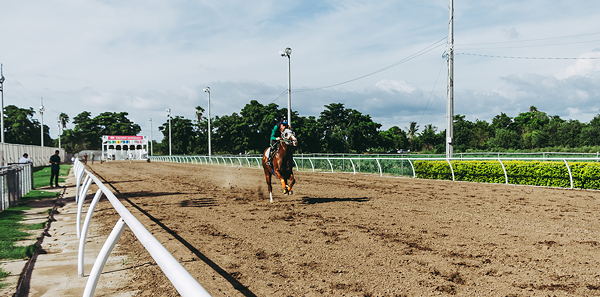 For those sports fans with a love of speed is there anything better than an action-packed day out at the races? As well as being a great social activity with friends and plenty of booze, one of the best things about this thrilling pastime is the excellent gambling opportunities it offers. But which is better? This question is passionately debated by fans and of course, there are many similarities between the two sports.

We 've taken some time to compare horse racing vs greyhound racing, throughout this article we 'll help you decide which is the best type of race for you.

Of course, across the country, there is a fabulous selection of racetracks for both sports. Those eager to watch a race and have a flutter can learn about the most popular greyhound tracks in the UK on greyhoundbetting.co.uk.

The Key Features Of Greyhound Racing

In the UK there are just two types of greyhound racing, Coursing and Track racing. In Track the race takes place on an oval track whereas with Coursing the dog chases a mechanical lure. Races must follow regulatory structures and racing code set by the Greyhound Board of Great Britain which is the industries licensing body. One of the rules of greyhound racing is ensuring there are no more than the specified number of dogs in each race, usually this is limited to six dogs. The sport isn 't just popular in the UK but across the globe, famous races include the Irish Derby, the Melbourne Cup and the Golden Easter Egg.

The Key Features Of Horse Racing

As with greyhound racing, horse racing must also follow a racing code and comply with the regulatory authority, in the UK this is the British Horseracing Authority. Horse racing is divided into two main subsections, jump racing and flat racing, unlike greyhound racing, there are many more categories within these such as endurance races, steeplechases and maiden races. As indicated in the name, flat races take place on a flat oval course without fences or hurdles, whereas jump racing does feature obstacles for the horse and jockey to navigate. Horse racing is fantastically popular across the globe, with flat racing being the most in-demand. Famous races in the UK include the Royal Ascot 's Gold Cup, the Cheltenham Gold Cup and the Grand National which is held at Aintree. Internationally acclaimed cups include the Kentucky Derby, the Melbourne Cup, The Everest and the Prix de l'Arc de Triomphe.

Betting Opportunities

What makes both of these sports so appealing to those who love a wager is the excellent betting opportunities they present. There are many more types of bet available other than just predicting the winner of the race.

Horse racing allows punters to bet on Forecasts and Tricasts, this where they must correctly predict the order of first, second and first, second, third respectively. Horse racing also allows fans to place match bets, where they bet on one horse beating another in the race, match or tournament.

Greyhound racing offers many of the same bets as horse racing with the most popular type of bet to be placed being a Tricast. This type of bet is harder to predict as instead of only foreshadowing the outcome of one dog the bettor must predict three, however, the reward of a successful prediction makes this a valuable gamble.

Which Is The Better Sport?

For race lovers who want to focus their attention on the speed and excitement of the race, greyhound racing surely has to be the favourite. With less time between races and cheaper entry fees, it's for good reason that greyhound racing has been a popular pastime of gambling lovers for over a century. However, for those looking for a more sociable or glamorous event with a more fun atmosphere, horse racing is a far more suitable pastime for an entertaining day out. Big events such as those at Royal Ascot are packed with atmosphere, activities and allure which make it a far more sophisticated sport. This comes with a hefty price tag though and races are far more spread out across the day. Another drawback of horse racing is due to the popularity of the sport, events can be very overcrowded and your view of the action may be impeded.

If you 're a racing lover, looking to place some great wagers and hopefully make a bit of cash both sports really are exceptional. Ultimately which is better is subjective depending on what you are looking for in a day at the races. Why not try out both and you can decide which is best suited to your taste?