RacingBetter News

Friday 4th September 2020
Find Out about the Biggest Horse Racing Events That Are Taking Place in the UK in 2021
Horse racing is known to many as the sports of kings, and British horse races are iconic all across the world. However, it is also considered to be the sport of the people, and horse racing in the United Kingdom has a huge following. Each year there are plenty of huge horse racing meets that are attended by thousands and thousands of horse racing fans. You might not know this, but horse racing is only second to football when it comes to spectator sports. In the following article, we are going to take a look at the big racing events that will take place in the UK throughout 2021.
Betting on Horse Racing in the UK
The British love to bet on sports, we all know that. However, one thing that you might not know is that more money is bet on horse racing each year in the United Kingdom than any other sport. Yeah, you read that right, more money is bet on horse racing than is bet on football. Each year, it is estimated that about £4 billion is bet on horse races. Why is this the case? Well, we believe that it has something to do with entertainment value. For example, if you are watching a football game and you support one of the teams that are playing, you will have emotional investment in that game because you want one team to beat the other. However, when it comes to horse racing, it is highly unlikely that you are going to be supporting a particular horse. Therefore, by placing a bet on a horse to win, you can add some extra entertainment to a race.
Another reason why people love to bet on horse racing is the fact that a lot of money can be won if you manage to guess correctly. Even one of the favourites in a horse race can have high odds, which is never the case when it comes to sports such as football. Therefore, even if you just stick £10 on a horse to win, you can end up walking away with a tidy profit.
Any respectable bookmaker that accepts players from the United Kingdom will have horse racing markets, so it can be tricky to find out the best UK betting sites for you to bet on horse racing. However, follow the link provided and their experts will help you find the best bookmaker for you when it comes to horse racing betting.
Biggest Horse Races in the UK in 2021
Below you can find out about six huge race horsing events that will take place in the United Kingdom in 2021.
Cheltenham Festival - Tuesday 16th March to Friday 19th March 2021
This horse racing meeting is definitely the pinnacle of the National Hunt season. There are four days of action and around 250,000 people make their way to the stunning Cotswold Hills in order to be thoroughly entertained. During these four days it is safe to say that Champions and heroes are made, while the reputations of others are left in ruins. Here, the finest jockeys and horses in the country battle it out to claim the £4 million prize money. If you are a big horse racing fan and have nothing to do next March, then we recommend that you head on over to the Cotswold.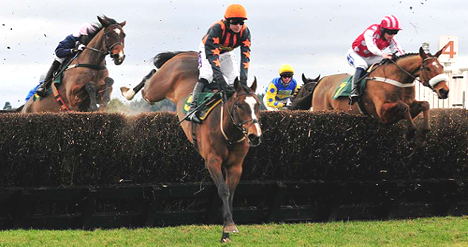 The Grand National - Thursday 8th April to Saturday 10th April 2021
This is the biggest and most iconic horse race in the world, and it takes place at Aintree. There will be 65,000 people watching at the track and another 600 million watching from all over to world to see which horse will be the latest to enter the record books alongside Grand National horse racing legends such as Red Rum, Aldaniti, and Foinavon. The big race will take place on Saturday 10th April next year, but the two days before that have plenty of other races to keep you highly entertained. If you are in Liverpool in April and are into your horse racing, we recommend you head on over to Aintree for a great day out.
Epsom Derby Festival - Friday 4th June to Saturday 5th June 2021
Every year, around 125,000 horse racing fans travel to Epsom Downs, Surrey, during the first weekend of June so that they can celebrate this historic horse racing event. This is one of the most beautiful horse racing venues in the country, and you can get great panoramic views of London. To this very day, this Derby is a race that every jockey wants to win as there are not many other thoroughbred races in the world that can match this one of prestige and history. If you have never been to this horse racing event, we recommend that you add it to your list.
Royal Ascot - Tuesday 15th June to Saturday 19th June 2021
The Royal Ascot meet really is the pinnacle of the British horse racing calendar. The variety, colour, and beauty of this event is completely unique and blends tradition with innovation. There is five days of great racing and partying as 300,000 punters attend the Berkshire racecourse from all parts of the United Kingdom.  If you are looking for something to do in Berkshire next June, you will not be disappointed if you decide to go to the Royal Ascot meet.
Yorkshire Ebor Festival - Wednesday 18th August to Saturday 21st August, 2021
This highly entertaining horse racing meets starts off with the Juddmonte International and ends with the famous York Ebor four days later. Anyone who attends this horse racing festival will be treated to some the oldest, richest, and fastest horse races in the world. You will definitely get to see some history taking place. So, if you have nothing planned for August next year, you should consider booking a week in York when this prestigious horse racing event is taking place.