RacingBetter News

Wednesday 26th August 2020
New To Betting On Horse Racing? Here Are Some Basic Tips To Help
Horse Racing is one of the most popular sports in the United Kingdom, America, Ireland and Australia. Horse racing takes place right across the world, with daily races which makes it a perfect sport to bet on.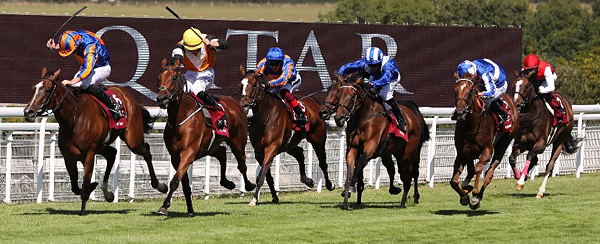 Most spectators, although enjoy the thrill of race, mainly watch as they are betting on the horses to win. Although it may seem as simple as picking which horse will come first, there is a lot more to it than that, so let's take a look through some of the basics to help you on your horse racing quest.
Research
Although you could be lucky by picking out a winner at random, you are much more likely to be more successful if you do some research before placing your bets.
Some people will bet on a horse because they like its name, or because of the colours the jockey is wearing, but even taking a quick look at the form guide before deciding who to bet on can improve your chances.
Most betting sites will give you the form guide of all the horses in a particular race, showing where they have finished in recent races. This can be a good indicator of what type of form they are currently on.
But don't forget there are many variables to each race, so just because a horse has won their last race doesn't guarantee they will win the next. Things like weather, and type of track are not normally listed on form guides and this can affect outcomes.
Find The Best Odds
It may seem like a simple thing to say but most people will go to their normal bookmaker or online betting site to place their bets. A better idea would be to shop around to find the best odds you can. Maybe looking at Oddspedia horse racing odds.
Not every site will offer the same odds, although most are likely to be similar odds, occasionally you will find some sites offering a much better markup, and so if you were to win with your bet, it would be financially better for you.
Don't Stick To The Same Bet
Most people will bet on which horse will come in first, but you don't need to choose that type of bet every single time.
Online betting sites now offer so many variations of different bets for each race so don't stick to the same boring bet.
You could place a bet on a horse, which means if your horse finishes first or second in the race, then you win.
You could make a multiple bet, betting on two or three different races outcomes which will significantly increase the odds which in turn gives you more winnings should the bet come through.
With so many different styles of bets to choose from it could be a little daunting on what to choose, but whichever type of bet you make, be sure to fully understand the rules of the bet and what outcomes you need for it to come in. There is nothing worse than making a bet that you don't fully understand.
Bet Small To Begin With
If you are a novice in the horse racing world or with betting on sports in general, it's always a good idea to bet small stakes while you are learning.
This way you should make a wrong bet, or make silly decisions, you are not losing too much money. Practise with making very small bets until you start to get familiar with horse racing, form guides and all the different types of bets you can place.
Once you start to feel more confident, slowly increase the amounts you are betting, but don't try to run before you can walk. Always set yourselves betting limits and try to stick to them.
Don't Bet On Every Single Race
With so many different horse racing taking place all across the world, there is a bet you could be placing twenty four hours a day.
Try and limit yourself to only betting a few times a day on races that you pick out. You do not need to be betting on every single race as this could lead you down a dangerous path of addiction.
Choose which races to bet on wisely, pick race courses you know or jockeys that you are familiar with. The more knowledge you have on the race instead of just picking out a random bet the more chance you have of success. Although, as with many things in life, you need a bit of luck on your side.
Should you keep losing and feel you're on a bit of an unlucky streak, don't be afraid to stop and walk away. Take a few days break away from horse racing before returning when you feel more fresh and confident with your choices.
The Safest Bet
The safest bet you can make with horse racing if you do not follow the sport closely or look at the form guide is by betting on the favourite horse.

There is a reason they are the favourite to win and why their odds are so low. Over a period of time, betting just on the favourites will give you more chances of winning regularly than losing.
But always remember anything can happen in a race so there are no guarantees with horse racing. So gamble smartly.
Summary
Horse racing is a great sport to bet on as the basic rules and principles can be quite simple. Pick a horse you think is going to win and bet on it. If you are going to bet randomly on a horse then it's always best to keep to small bets.
If you follow horse racing more closely and keep a keen eye on recent races and form guides you can definitely be in a much stronger position to pick out more winners than losers.
Always remember betting on horse racing should be more about the fun and thrill of the race than just trying to win some money.