RacingBetter News

Thursday 6th August 2020
Horse Racing Betting Terms, Tips, and Explanations
Horse racing is an exhilarating and spectacular equestrian sport that has attracted millions of people all over the world for hundreds of years. This exciting sport, which takes place all around the year, features tons of races to bet. Each race witnessed a massive influx of horse racing lovers who watch in excitement as jockeys scramble for the ultimate prize - it's a fantastic sight to behold, which leaves you with lovely memories. 
Horse racing betting requires knowledge, experience, analysis, and intuition to win. You have to know your jumper from your bumper. Several factors determine the successful outcome of a bet, including the bet type and odds. Let's delve further into the world of horse racing to learn more.
Horse Racing Terms 
Accumulator: A bet in which customers place multiple selections with the condition that they must all win. Failure to meet this requirement leads to a betting loss.

Also Ran: A horse that failed to finish in the money.

All-Weather Racing: A surface used for horse racing all year round irrespective of the weather conditions.

Early Price (EP): Prevailing odds bookmakers provide before a racecourse for customers to place bets at a higher value than the final starting price which comes up at a later phase.

Favorite: Any horse with the shortest odds assigned to it during a bet. This term implies that the probability of it winning surpasses the rest. It is also known as "the Jolly".

Fixed-Odds Betting: Betting in which your winnings do not change in value after placing a bet. 

Form: The statistical performance of a horse over a specific time frame, whether it be a season or overall period. This evaluation determines which horse would likely outperform the rest in a race. 

Going to Post: A term (trigger word) used to signify that the horses are about to commence a race and customers have a few minutes to place their bets. 

Handicap: More than 80% of horse races fall into the category of handicap races. During such competitions, varying amounts of weights are assigned to the participating horses to level their chances of winning. This technique prevents horses with more natural agility from winning almost every race - an unfair advantage to other horses. 

In the Money: This term describes a horse winning position at the end of the race, including 1st, 2nd, 3rd, and sometimes, 4th positions. Customers with stakes on these winning horses are eligible for their payouts. 
These are a few of the new terms you can learn to increase your knowledge in horse racing betting.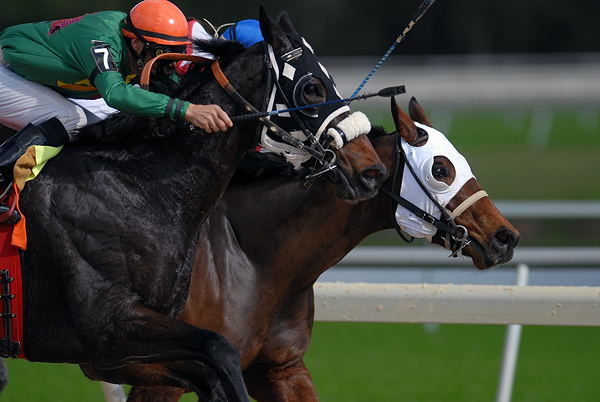 Photo by Jeff Griffith on Unsplash
Horse Racing Betting Tips
Many people consider horse racing a hobby for the rich and the aristocrats. However, anyone can participate in this sport. Thanks to the internet, online Horse race betting is now available to millions of people across the world. Placing your bets on these online platforms is a walk in the park, provided you know the basics. You can start here right away. Here are some tips you should know before placing your first bet. 
To increase your leverage through an improved balance, you can take advantage of bookmakers' free bets. However, you have a specific betting volume to meet before withdrawing it. 

You can get the best odds by conducting research on the online horse racing market and different types of horses. Early price betting is another strategy that works just fine; this offer is available a day before the actual betting. 

Understand the form of each participating horse as it will help you make the right call. There are different bet types, including "show" and "place", which are the best strategies for beginners. 

Avoid betting beyond your means. Stick to your financial limits as excessive gambling may signify a gambling addiction. 
Summary 
As you spend more time understanding horse racing as a sport, your betting analysis and winning chances will increase. In no time, you will realize how high-profile investors bet their money on the horse, the rider (Jockey), and the race.