RacingBetter News

Friday 21st August 2020
Lucky In 10
Sport has returned in the UK with great success, following the lengthy break, due to the coronavirus pandemic. Liverpool returned by landing the Premier league and the best Premier league odds has them as short odds to follow up next season, with Manchester City still the favourites. Punters have already been looking to make the most of the different offers and bonuses ahead of the next season kicking off. These different offers are also being used in the different horse racing markets, which have also proven hugely popular since the return, as you are about to see below!
A little time in lockdown is enough to make even the best of us a little stir crazy, and the return of sporting events a few months ago has saw a string of what many would consider to be questionable decisions from some that have paid off recently with small wins as one punter placed a huge $140k bet on a UFC fight only to win small to others who haven't been so lucky doing the same.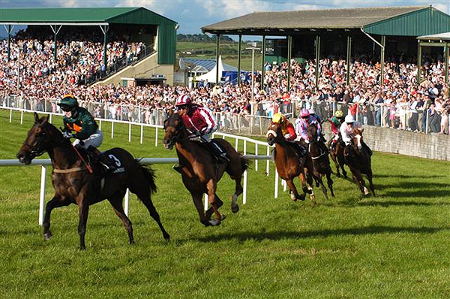 tramore.ie
One punter will certainly be looking for a lottery ticket after a recent win however, as the horses have certainly done well - a series of small bets were all number tens on their racecards all came in as winners - the £1 total bet on the five-fold went;
14/1 on Mandarian Monarch at Tramore
6/1 on Morrooj at Tramore
12/1 on Sir Canford at Chepstow
14/1 on Red Vermillion at Tramore
14/1 Das Kapital at Chepstow
And the final winnings? £151,488.10. That's right, £150k winnings on a £1 bed for this lucky better on what could be considered the win of a lifetime and something that may have other punters searching similar opportunities (although likely not to the same effect!) After a long period of lockdown for many this will be a perfect way to usher in the 'new normal' way of life and will certainly help in this long period of recovery.
What may be interesting following this win may be how punters approach upcoming races and potential betting there too - this big win could spur many to follow and try themselves and could lead to a large uptick on these each-way bets - each-way bets cover the punter for a pay out if the horse places in a race, usually second or third.
Ladbrokes spokeswoman Jessica O'Reilly had said in a statement "Punters have all sorts of ways of making their selections, and sometimes it's as simple as picking horses by their saddle cloth number, which has clearly worked wonders on this occasion."
It hasn't all been good news for some however as success for one has meant bad news for another and that had come in the way of a race day cancellation at Windsor - heavy rainfall happening in the UK once again has caused troubles for some race organisers and after 40mm of rain fell in six days it left the Berkshire venue un-raceable for one specific part of the course - with other events scheduled throughout the next few days and over the weekend as courses such as York, Newton Abbot, Sandown and Uttoxeter prepare organisers will be hoping for a big spot of sunshine to ensure that the races can continue to go ahead without disruption - although sun is predicted for many there are still large parts of the country with storms expected too so it may not be too surprising if we do see some other race day events cancelled or postponed until the weather comes a little under control and things start to dry out.