RacingBetter News

Wednesday 22nd July 2020
Fans May Return to Horse Racing Venues in August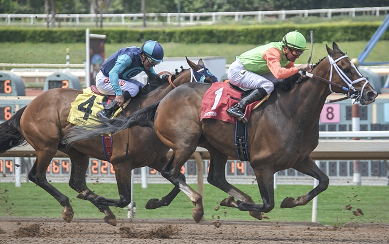 After the resumption of horse racing on June 1, fans have continued enjoying the action from their television screens. There was a lot of hype surrounding the return of races after several false starts by the British Horseracing Authority (BHA).
And now, some players in the horse racing industry are cautiously hopeful that spectators could be allowed back to the racecourse as early as August.
For punters, this could be great news as there's no better way to enjoy horse betting than by watching live action. With the help of watching the events in person and with what racing guides suggest you can bet strategically and enjoy better outcomes.
Eerie Return of Horse Racing
It was a much-awaited moment with Newcastle hosting the first fixture after the resumption of horse racing action. However, the eerie silence all around the park highlighted how much had changed in the new sporting world.
Many racing fans and punters had awaited some form of actions after 76 days without horse racing in Britain. The all-weather meeting came after meticulous planning and since then other races have gone in successfully including the latest Dante Stakes at York.
Are Crowds Returning to the Racecourse?
With a return to a semblance of normalcy, the chief executive of Hamilton Park Racecourse is optimistic that spectators can finally return to the grandstands and enjoy some live action. While fixtures have continued smoothly, the lack of crowds still deny the sport the thrilling edge it always had.
Hamilton Park boss Vivien Currie is hopeful that as the reopening continues gradually, it would be possible to allow spectators by August 1 for the Boe Violet Gin Ladies' Night.
With the British Horseracing Authority and Scottish Racing categorically stating that all sports will be held behind closed doors, the CEO of Hamilton Park Racecourse says it's too early to know how things will turn out.
While horse racing was the first sport to return under the strict government regulations, there has been no word on further relaxation of the rules. However, the BHC, when announcing the resumption of racing, indicated that evaluation of the situation would be an ongoing process.
For this reason, Vivien says she would rather wait for the next review in August before making any plans. With Ladies Night hosting over 10,000 people, this would be a great moment to showcase horse racing in its strength.
While there's no word yet out on whether to allow spectators, Vivien says Hamilton Park Racecourse would be ready to let in some fans. She says it's only when the government categorically stops such meets that they will stop hoping for spectators'' return.
The Royal Ascot 2020, which is one of the greatest races in UK's history, went on without spectators. There was no Queen, Royal procession or the usual glitz and glamour that comes with the flat racing's most significant meeting. Racing went on without cheers and this sets the mark for the horse racing season that will be.
For Hamilton Park Racecourse, this would be the most active time of the year since they host thousands of spectators from May through to September for several horse races.
With the cancellation of racing back in March, this and many other racecourses have incurred expenses with no cash flow to offset such bills. The racecourse doesn't have a winter season that would otherwise help recover the losses, which has made things worse.
Allowing spectators to return would be good news to Vivien Currie and bosses at other racecourses in the UK. For now, the guidelines from Scottish Racing and BHA indicate that all races at Hamilton Park will be behind closed doors like in the rest of the country.
These conditions also indicate that only jockeys, a trainer, one lad or lass per horse are allowed into meetings. There have been some adjustments to the strict regulations with the Racecourse Association (RCA), Racehorse Owners Association (ROA) and British Horseracing Authority (BHA) agreeing to allow horse owners to the racecourse albeit in a phased process.
Even as Vivien and other horse racing players hope for relaxation of the rules regarding spectators, there's not much to indicate that the government has any new plans.
The BHC has not given any update on the same, and it's no wonder the Hamilton Park's chief executive says she's planning for the worst and assuming that fans might return next May.
Upcoming meets at Hamilton Park are slated for Sunday, July 12, Friday, August 1 (Boe Violet Gin Ladies' Night), Friday, August 7, Friday, August 28 (Ladbrokes Lanark Silver Bell Racenight).