RacingBetter News

Wednesday 17th June 2020
Everything You Need to Know About Betting on Horse Racing in the UK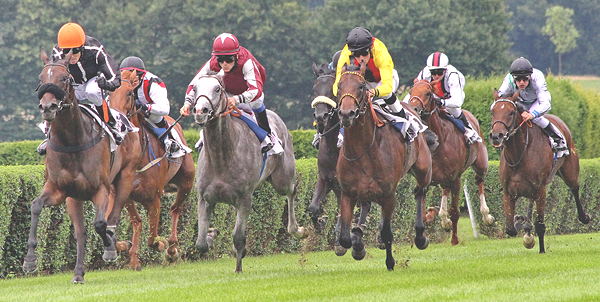 Every year, thousands of people win millions of pounds in horse race betting in the UK, with some taking home tens of thousands and the lucky ones even scooping hundreds of thousands in winnings.
In 2020, for instance, we've already had a punter win £65k on a £20 bet, despite the coronavirus. In 2019, meanwhile, a Leicester punter won £823,000 after staking just £19 while another bettor, this time in Cheltenham, took home £182,567 from a £2 bet.
It shows just how much money there is to be won in horse race betting in the UK. That's before you mention people like Steve Whiteley, the resident of Tawton, Devon, who won £1.45 million from a £2 bet back in 2011.
You too can start betting and hopefully win some of these prizes. If you're not very familiar with the sport yet, here's everything you need to know to start betting on horse races in the UK.
A Little Background
Horse racing isn't a new phenomenon. People have been riding horses, whether on the horse's back or in chariots, since at least 700BC.
However, horse racing as the sport we know today started in the 17th century when King James 1 took a fancy in racing horses. He called it the "Sport of Kings."
Within years of that declaration, horse racing became a popular sport in the UK, spreading especially quickly during the 18th century. Today, horse racing is one of the most-watched sports in the country.
Types of Horse Races in the UK
There are two broad categories of horse races in the UK. The first and most popular category is called flat racing. In flat racing, several horses start running, either in a straight line or a curved track, and when they finish, the horse that goes past the post first is declared the winner.
The second category, known as National Hunt racing, is a little more complicated in that there are obstacles to be negotiated during the race. National Hunt is further divided into two sub-categories – hurdles and steeplechase.
In both hurdles and steeplechase, horses jump fences. The difference, however, is that steeplechases have higher and more solid fences. Additionally, steeplechases have open ditches and water jumps that horses must navigate. These features add more thrill to the sport.
Types of Bets you Can Make on a Horse Race
There are more than a dozen types of bets you can make in horse racing. The following are some of the most popular;
Single bets: Involve attempting to pick the winner of a race. It's one bet with just one selection.
Each way: Involves wagering on a horse to either win a race or be "placed." One "each way" bet costs you double the wager amount.
Accumulator: Also known as ACCAs, accumulators consist of one bet with multiple selections. ACCAs give you the chance to win more money.
Exotic bets: As you get more confident in your betting, exotic bets provide another excellent opportunity to make serious money. Common exotic bets include Trixies, Patents, Yankees, Lucky 25, Canadian bets, Lucky 31, Goliath, Lucky 31, Heinz, and the Super Heinz.
The Anatomy of a Horse Racing Bet
If you've made a bet at a major gambling platform such as bestlivecasino.vip, you'll know what a bet ticket looks like. Horse race bet tickets aren't much different.
The ticket will display the name of the horse race, the type of bet made (e.g. single bet), odds of the outcome (e.g. 10/3), the amount staked (e.g. £20) and the potential return (which in this case would be £86.67).
Where you're betting on multiple outcomes (in an ACCA), all the individual bet types are listed and the overall odd, determined by multiplying the single bets, displayed at the bottom. The potential winning is determined by multiplying the total odd value by the staked amount.
You must never lose your bet ticket since you must provide it to collect your winnings (when you win).
The Biggest Horse Racing Events in the UK
Every single day, there are several horse races around the world that you can bet on. Even in the UK, a week hardly passes without a horse race. You're encouraged to check out these races as often as you can and bet on a few whenever possible.
But, you may also want to know about the biggest horse races in the country where millions of pounds change hands. Five such races are;
The Cheltenham Festival in April
The Grand National in June
The Epsom Derby in June
The Royal Ascot from May to October
The British Champion Day in October
A Few Tips to Keep in Mind
Every experienced gambler has a strategy that they use to consistently profit from horse races throughout the year. You'll likely develop your own plan too down the line.
In the meantime, though, we'd advise that you follow just four best practices – pay attention to the trainers, study the horse, shop the odds, and learn to manage your bankroll. Once you master these four, you're ready to make your first horse racing bet!