RacingBetter News

Tuesday 16th June 2020
Leading Hardware Solutions by IGT: Impact on instant racing and free slots market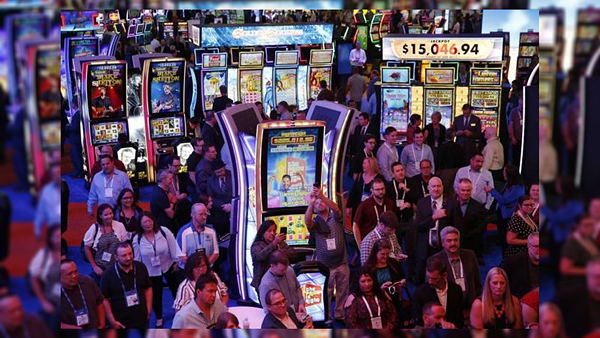 The 1st quarter of 2020 was hard on many companies all around the planet. The gaming market was no exception to this rule, and IGT's report of the 1st quarter of 2020 depicted a clear image.
International Game Technology is a leading company in the gaming market with casino software and hardware production since 1990. They have the most significant number of game themes in the industry, many impressive licensed titles, and a wide variety of game types in their portfolio. They keep going every year.
The company is most known as a provider for top online casino games, especially for their free IGT slots with no download, no registration required. Gamers can play free online some of their best slots for fun, and if they are feeling lucky, they can find them on many online casinos. Their fruit machines include some all-time-favorites such as Golden Goddess, Triple Diamond, and DaVinci Diamonds. They also have acquired an array of licensed titles such as Ghostbusters, Family Guy, and Star Trek.
What makes IGT an industry leader in hardware solutions is its 360 degrees approach to games. Their cabinets are always up to date with players' needs and offer the best solutions and software. Their electronic table slots are designed to provide a variety of well-known games like Multi Baccarat and Live Blackjack for the never-ending experience. They also give a chance for dealers to maximize their revenue. Plus, all of these come with excellent service and new software.
They recently released their report for the 1st quarter of 2020, and many things appear to have changed. According to the report, their consolidated revenue is 18% down from the previous year reaching $940 million. IGT also reported an operating loss from $178 million last year to $197 million. The EBITDA numbers (earnings before interest, taxes, depreciation, and amortization) reached $309 million, which is 26% decreased from last year's EBITDA during the same time.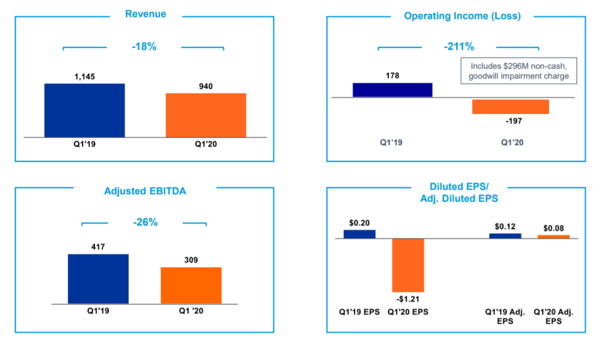 Q1'20 IGT Financial Highlights
However, the company's net debt has improved from December 31st of last year by 3%. Their net debt is now $7.17 billion. The net debt-to-EBIDTA leverage went from 4.31x on December 31st, 2019, to 4.47x at this time. The company also secured liquidity of $2.2 billion for the uncertain times ahead.
IGT's contribution to online slots started back in 1075 with Lottomatica S.p.A. Over the years, they closed impressive contracts with many leading companies such as the 11-year contract with Norsk Tipping for that introduced a new bingo solution with more than ten variants. This was just part of their iLottery solutions that provide players with interactive mobile adjustable games such as draw slots, iKeno, poker, instant win games, bingo, and online casino games.
After years of experience in land-based solutions, the brand new CrystalBetting Terminal comes as no surprise. This innovative sports betting machine was a collaboration between IGT and ISI. It comes with more privacy, more prominent ergonomic solutions, and amazing software. CrystalBetting comes with privacy wings and extra space in front of the player for privacy and comfort while betting on their favorite sports. It also comes with a high definition touch screen, which allows the player to watch multiple sports simultaneously. For a complete experience, there is an audio feature. It is integrated into the machine so the player can use the headphones to listen to any event he likes. There is also a more personal place due to the outside deck that is attached to the machine and lighten up with overhead lights – even part of the CrystalBetting Terminal.
It comes with excellent software solutions from IGT. Players can personalize their screens and watch multiple events at the same time. The in-play wagering system allows players to bet on all live events streaming on their machine with cash directly through the Terminal. For maximum efficiency, while gambling, a charger is integrated into the CrystalBetting Terminal, so players can keep their head clear from destructions.
Another innovative hardware solution by IGT is the CrystalCurve series. The CrystalCurve Ultra was brought after the success of CrystalCore and AXXIS 3D. An attract sequence is incorporated in the machine to call gamers to play when they are passing by. At the same time, there is the option to personalize the audio for a unique experience. It also comes with an integrated charger and dual bash button, and lights synchronized with the game's sounds and music for an immersive experience. It has two displays a 32" Ultra HD display and a 50" Ultra HD display above it for vivid gameplay.
The CrystalCurve TRUE 4D comes with all the ULTRA features and more. The TRUE 4D machine has motion and gesture recognition that allows players to touch and move in-game 3D objects. Its displays come with 4K resolution, and there are two bash buttons for maximum personalization.
Besides all the innovative solutions for making unseen before gaming machines, IGT is always in the market for distributing gaming machines all around the world. Their last deal for selling 1,250 historical horse racing games to the Churchill Downs casino operator quickly hit the news. The agreement aims at bringing historical horse racing games to many casinos operated by Churchill Downs. IGT wanted to add historical racing machines to its portfolio and cover more end-to-end solutions for its customers. The Senior Vice President of Gaming Operation Austin Miller said the machines would be placed at Kentucky gaming facilities, Newport Racing & Gaming in Newport, as well as more facilities in the future.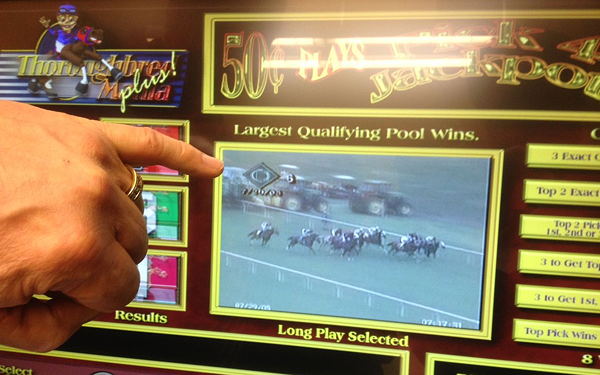 Historical horse racing machine
Historical horse racing is a horse betting game. The difference here is that the horse races are not in real-time. Gamers bet on horse races that happened in the past, but they don't know which of the horses the winner is. This is possible by changing the names and identities of the horses and their riders. Players can manually handicap the race using the information provided by the game. After placing their bet, an animation of the slots' results is played, and players get to enjoy a slot-type game with spinning reels and multiple symbols.
This is an expected deal by IGT since they are a leading company in slots. The historical horse racing games have a big part operating as a slot, and it is natural for a company like IGT to want a piece of the pie in this field. However, this can be a game-changer in the gaming market. Over the years, players have seen slots changing with skilled-based and RPG-like games integrated into slots. Horse racing is becoming more and more exciting with slots like this changing the traditional way of playing.
Players over the last years have changed their perspectives on games in general and casino games, especially. Slots developers are seeing the challenges Millennials are posing and are actively responding to, creating games for a changing market. Millennials are losing their interest in games quickly and need more than a simple game to invest their time on. The iGaiming market is bumming, and players need more games and more solutions by providers. Security was always a crucial factor in gaming, and, combined with the iGaming market, providers increased attention over the last years. Slot games are becoming more interactive and exciting, with various solutions offered by slots providers for better and more interactive gameplay.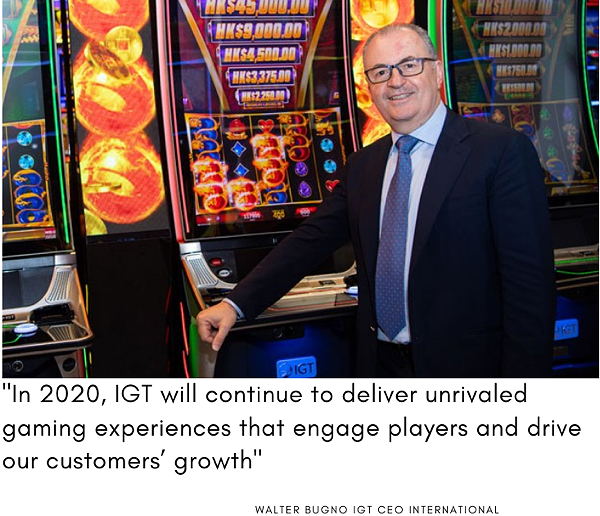 IGT did their part with many products targeting the new generation of players. IGT's PlaDigital solutions are innovative digital hardware solutions. Their PlayInstantWin games are bringing to the table features of traditional games of chance such as crossword, bingo, keno, and more, with more mini-games in-between rounds to maximize the fun for players.
Their PlayBingo product is part of the PlayAnywhere solution and offers players a great social gaming experience with a live chat option, community Jackpots, and five different ball options. There is also an array of mini-games that players can choose to play during or in between bingo rounds. The PlayAnywhere solution also includes PlayCasino games. This includes many of their land-based fruit machines that are already famous and new ones continuously added. They also include mini-games like keno for more options. Also, the PlayLottery program is an excellent solution for a personalized experience.
The gaming market is constantly changing to address players' needs and offer more and better solutions to the public. This has made games such as horse racing and slots evolve and, in their case merge, to create spectacular results. Companies are trying to provide more and more demanding players with the next best thing every day, which leads to more innovations and more games.
The market might be changing, but companies like IGT are here to deliver on their promises. Even during the 1st quarter of 2020, companies have done their best to keep running their operations smoothly, and IGT seems ready to take on the next challenge.