RacingBetter News

Tuesday 18th February 2020
Free Horse Racing Games You Can Play To Practice Your Casino Skills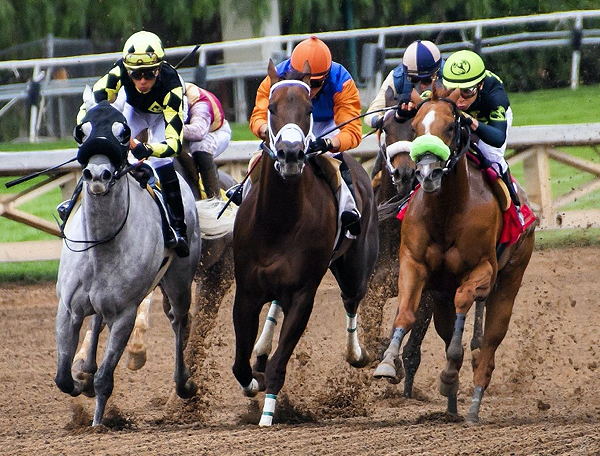 When you are a fan of horse racing, you often find that you will do anything to get an extra slice of the action. This could involve actually heading to the local races, placing a bet on a horse or for some people, playing a horse racing themed game. The great thing about horse racing casino games is that they give you a chance to see the horses come to life and there is a lot of cash at stake.
With horse racing games, you can enhance your casino skills by learning how stakes work. This is a vital skill required for placing a bet on a horse at a bookies. With enhanced casino skills from playing online slots for free, you will be ready for the bet that you place on your favourite horse.
Here, we are going to look at some of the free games that are based around horse racing that you can play online. Make sure to find out more about these games below and try them out to enhance your casino skills.
Bookie Of Odds
One of the best games that you can play for free that is based around horse racing is Bookie Of Odds by Microgaming. This game is based on a racetrack and there are many horse racing symbols that appear. Bookie Of Odds comes with 5 reels and 10 paylines for you to win across.
If you do decide to play this game for free online, you will notice that there are many bonus features. The most exciting feature is the respins feature that allows you to continue spinning until you win. This will cost you extra money but it is good for helping you decide how much you can afford to gamble. Make sure to check out this free slot to get closer to horse racing.
Horse Racing
If you are looking for free slots that are going to make you feel as though you are playing real horse racing games then you need to check out Horse Racing by iSoftBet. This game puts you right on the track and there is a British racing green that you will love. This game comes with just 5 reels and 5 paylines which makes it a simple game for those who aren't too familiar with slots. This game is perfect for helping you to improve your casino skills and you'll pick it up in no time at all.
In Horse Racing slot, you will be able to trigger a bonus feature that allows you to pick a horse. If you pick the right horse and it gets over the finish line first, you will find that you win a lot of cash. This is great for those who aren't very experienced in picking horses and want to try something different.
Lucky Horse
The next top game that has made our list of games that can help to enhance your casino skills is Lucky Horse. This game was developed by High 5 Games and it features a winning horse as you spin the reels. In this slot, you can play for 466 ways to win and this will cost you 90 credits. Make sure to choose your bet wisely and get some practice in during this slot game.
Lucky Horse has some wild coins within it and there is also a wild bonus game. If you are looking for a game with a big payout then we suggest checking out Lucky Horse as there is a lot of cash up for grabs. Of course, if you are playing for free then you won't receive this money, it will just be for practice.
Day At The Races
The final slot to make our list of the best games for those who want to enhance their casino skills is Day At The Races. This slot game will be perfect for those who are missing their racecourse days and want to experience the fun of a day at the races.
This slot game was developed by OpenBet and it comes with 20 paylines and a large jackpot of 20,000 credits. Of course, if you are playing this game for free then you will just be practicing for your own day at the races.
There are a lot of references to horse racing in this game including in the Tic Tac Charlie feature. This character is a racecourse guest and he will help to trigger a mini game. You will need to choose a horse from the list and then wait for your horse to complete the track.
This game is a lot of fun and we would recommend it for anyone hoping for a new game to play that will give them a taste of horse racing. Make sure to take a look at some of the sites online that will offer you a free demo play of this game.
Final Verdict
If you are hoping to practice your casino skills and try out some horse racing games then we suggest that you give some of the games that made our list a spin. Make sure that you take a look online and you should be able to find some of these games for free. When you play for free, you will be able to place your bet without risking your own cash. Then, when you have developed your casino skills, you can do the real thing at a racecourse. This is something which many people forget to do and then make a big mistake when they place a real bet without the right skills or experience.
These games are a lot of fun and have some great bonus features. You'll love the references to horse racing in these games and some even allow you to pick your own horse. Make sure to check out these games as soon as possible to see what you think.