Racing News

Wednesday 30th November 2016
BetBright Wins Best In-House Product at EGR Awards 2016
BetBright, the young and ambitious on-line digital entertainment, sports betting and casino operator is pleased to announce it won, "Best In-House Product" Award at the 2016 EGR Operator awards.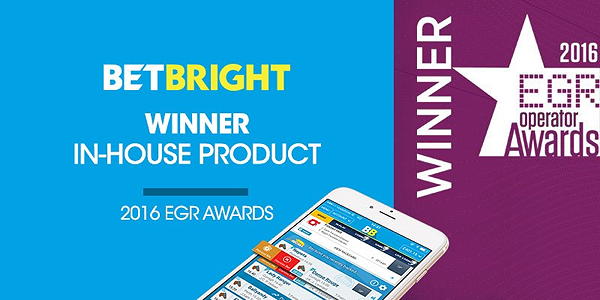 BetBright won this prestigious award for the development and launch of two of its most exciting new products "Genius" and "Recall" in 2016. These products were created and developed by BetBright's market leading in-house product development team in collaboration with the Sportsbook and marketing teams. The company is unique as it controls and develops its own proprietary technology giving it the flexibility and agility to rapidly create and deliver market leading new products to meet its customers' demands.

EGR received a record number of entries for its awards and said:

"The on-line gambling industry is evolving at a rapid pace…..But as in any industry, the highest achievers perform in the toughest of conditions and tonight EGR will reward those of you who have stood out from the crowd."

Noel Hayes, Director of Sportsbook at BetBright said:

"In Genius & Recall we have two industry leading product features; Genius allows the punter to make the most informed decision possible with minimum effort while Recall allows BetBright to offer personalised selections based on previous betting behaviour.

Our success at the EGR awards last night is a fitting recognition of the quality of the product development work taking place at BetBright and our continued commitment to improving the customer experience."
"Genius" by BetBright is a simple, intuitive way for customers to find and discover horse racing selections. Built entirely in-house, Genius allows customers to select their bets through a range of smart filters, based on form and course conditions. Customers can also search by their favourite horse, jockey, or trainer. BetBright were the first operator to bring the product to market, with competitors now trying to emulate the first class experience we have crafted.

"Recall" is the intelligent, personalised bet recommender that ensures BetBright customers never miss on 'their' bet ever again. Recall analyses a customer's past bets to recommend their next bets. 75% of all online sales globally are due to recommender systems. We recognised the potential growth this could deliver our business. Now reaping the rewards of Recall, we continue to extend its capabilities.

BetBright was also shortlisted for the "Rising Star" award.