Sea The Stars is First Horse to Complete Derby-Guineas Double in Twenty Years 06/06/09
1 (12) Sea The Stars 11/4 (2F)
2 (5) Fame And Glory 9/4 (F)
3 (9) Masterofthehorse 16/1
Sea The Stars became the first horse since Nashwan in 1989 to land the Investec Derby after winning the 2,000 Guineas. The morning favourite was superceded in the betting just before the off by Fame And Glory, who was sent off 9/4 favourite and finished second, but in the closing stages, Sea The Stars gave his supporters little cause for worry as he struck the front with two furlongs to run and ran home strongly to win by a length and three-quarters.
Sea the Stars, the first horse to complete the 2000 Guineas - Derby double in twenty years.


© racing-images.co.uk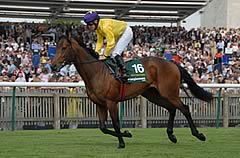 His victory gave trainer John Oxx his second Derby win following Sinndar's triumph in 2000 while jockey Mick Kinane was notching his third success in the race, having also won on Commander In Chief in 1993 and on Sea The Stars' half-brother Galileo in 2001.

Oxx said: "He was a beautiful yearling and I went to see him before he came to me. He just had everything and he did everything right from the word go. He's never let us down all the way up. Some horses look good and then let you down but he never has - he's taken us to the very top of the ladder.

"Actually I wasn't very anxious at any time during the race because it was going so well. He cruised down the hill and I could see Mick was waiting and when he sent him on he wouldn't stop - he'd been going too well for too long.
"He could win any Group One at a mile - a mile and a quarter is probably his best trip. I think the St Leger might be a bridge too far. I'm a believer in the Triple Crown and I think within the next ten years we will probably see a Triple Crown winner as there are some really good middle-distance stallions around now but I don't know, we were worried going into the Derby so I don't know about the Leger. We'll have to talk about it but I doubt it, it would be a step too far. He could go for the Irish Derby or the Eclipse - he's got plenty of speed."
He continued: "From a long way out I could see he was running well and it was a very stress-free race. Plan A worked out for us as we had no anxious moments and he got the trip well enough.
"Mick doesn't say much, it's hard to get information from him, but we knew he had a really good feeling about this fella. He was the Guineas winner and we hoped he'd end up being one of the greats and he's delivered."
3.45pm INVESTEC DERBY (GROUP ONE)
£1,250,000 guaranteed, 1m 4f, For 3yo entire colts and fillies Weights colts 9st; fillies 8st 11lb Entries 474 pay £325 Confirmed 13 pay £2500 Penalty value 1st £709,625.00 2nd £269,000.00 3rd £134,625.00 4th £67,125.00 5th £33,625.00 6th £16,875.00
1 SEA THE STARS (IRE) (Christopher Tsui) John Oxx IRE 3-9-0 Mick Kinane [4] 11/4
2 FAME AND GLORY (Derrick Smith, Sue Magnier, Michael Tabor) Aidan O'Brien IRE 3-9-0 Seamus Heffernan [10] 9/4f
3 MASTEROFTHEHORSE (IRE) (M Tabor, D Smith & S Magnier) Aidan O'Brien IRE 3-9-0 Richard Hughes [2] 16/1
4 RIP VAN WINKLE (IRE) (S Magnier, M Tabor & D Smith) Aidan O'Brien IRE 3-9-0 Johnny Murtagh [9] 6/1
5 GOLDEN SWORD (M Tabor, D Smith, S Magnier) Aidan O'Brien IRE 3-9-0 Colm O'Donoghue [7] 25/1
6 CROWDED HOUSE (Paul Reddam, Carmen Burell, Jonathan Harvey) Brian Meehan 3-9-0 Jamie Spencer [12] 20/1
7 AGE OF AQUARIUS (IRE) (S Magnier, D Smith, M Tabor, Eduard Mordukhovitch) Aidan O'Brien IRE 3-9-0 Pat Smullen [1] 25/1
8 DEBUSSY (IRE) (HRH Princess Haya Of Jordan) John Gosden 3-9-0 Jimmy Fortune [5] 33/1
9 KITE WOOD (IRE) (Godolphin) Saeed Suroor 3-9-0 Frankie Dettori [8] 28/1
10 BLACK BEAR ISLAND (IRE) (S Magnier, M Tabor, D Smith) Aidan O'Brien IRE 3-9-0 Ryan Moore [3] 7/1
11 GAN AMHRAS (IRE) (Jackie Bolger) Jim Bolger IRE 3-9-0 Kevin Manning [6] 8/1
12 MONTAFF (Barry Walters Catering) Mick Channon 3-9-0 Richard Hills [11] 40/1
Non-runner: 13 SOUTH EASTER (Self Certificate - bad scope)
12 ran Distances: 1 3/4, nk, nse, sh, 6, 1/2, nk, 4 1/2, hd, 5, 11
Time: 2m 36.74s Breeder: Sunderland Holdings Ltd Breeding: b c Cape Cross (IRE) - Urban Sea (USA) (Miswaki (USA))
Totes: Win: £3.40 Places: £1.50, £1.50, £5.00 Exacta:£11.20
Mick Kinane, who is just a few weeks shy of his 50th birthday, was having his 21st ride in the Investec Derby, having first partnered Carlingford Castle to the runner-up slot in 1983. He said: "He was just finding it all so easy - he has that serious pace. He has so much class and that carries him through."
The jockey, who celebrates his 50th birthday on June 22, said: "He is so quick - he has a very high cruising gear.
"He has improved enormously from Newmarket (where he won the first colts' Classic - the stanjames.com 2000 Guineas over a mile). We had to chase him really hard to get to Newmarket and only a horse of his constitution would have taken what we threw at him.
"But since then it has been a coast in his work and John (Oxx) has done a fantastic job with him.
"Sea The Stars has improved physically and fitness-wise. He just hit the gates and is so quick that I thought I would just have to sit behind the leader at one stage.
"He over-raced a bit through the race as they were not going quick enough for him. I was happy with where I was in the race as I was ideally placed behind the leader.
"I knew I wasn't going to get any dead wood coming back on me. I was able to ride my horse to get there from the furlong-marker. I was never in any doubt - I didn't think anything could beat me for pace from there.
"Sea The Stars was just going so easily all the way - almost too good - it was like he was in slow motion. He has serious cruising ability over any distance.
"When he came along last May, it put a few years back on me!
"I am running out of chances from now on (for more Derby success) and, as I have said, when this horse came along I could not believe my luck. Bred how he was, he had the physique and the attitude to be a great horse. He has given me a new lease of life and it is a pleasure to be on him."
Trainer John Oxx said: "He's a terrific horse to have about the place, he has such a constitution and every day is the same for him. He's a big masculine horse and he's the boss at home, he thinks he owns the place. But the responsibility for training a horse like him is countered by the pleasure of looking at him about the place.
"You'd worry about any Guineas winner staying a mile and a half so the distance had to be a concern going into today's race. It's hard to know if he was going to get the genes from his sire or dam.
"Michael (Kinane) doesn't make any big comments, it's sometimes hard to prise information out of him, but I think he had plenty of confidence.
"We'll look at the Irish Derby but he has to have good fast ground and in Ireland it doesn't seemed to have stopped raining for two and a half years!
The Eclipse the following Saturday would be another option and the weather might be a problem looking further ahead to the Arc.
"I think the 10-furlong races such as the Eclipse, International and Irish Champion Stakes would be obvious targets.
"The Triple Crown would be a nice dream and I'm a great believer in it. I think it might be won in the near future because most of the expensive yearlings being bought are by the likes of Galileo, Montjeu and Dalakhani.
"One of these will come along as a Triple Crown contender, the question will be whether they go for the Guineas before the Derby and St Leger.
"We thought long and hard about whether he'd get the Derby trip and if I said to Michael we were thinking about running in the St Leger I think he'd be worried!"
EVERYTHING BUT THE PRIZE FOR O'BRIEN
Aidan O'Brien wrote a new page in the record book, when he saddled four of the first five home in the Investec Derby. Unfortunately, the only place missing from the sequence was first.
The O'Brien placings were:
2nd Fame And Glory; 3rd Masterofthehorse; 4th Rip Van Winkle;
5th Golden Sword; 7th Age of Aquarius; 10th Black Bear Island
After debriefing his six jockeys, a clearly disappointed O'Brien searched carefully for his words. "It was a great race to watch and my horses all ran well. We'll have to look at the race and see what we can find out," he said.
The trainer maintained that there was no special stable fancy before the race, "They all came through their trials," and he did not pick out any particular performance in the race, except that of the winner. "Oh sure, that's a good horse. He won very well, didn't he?" said O'Brien.
To make a bad day worse, the Stewards fined O'Brien £840 (6 x £140) for his horses being late into the parade ring. The trainer saddled his horses in the racecourse stables and they were late into the parade ring. The Investec Derby was seven minutes late starting.
The stewards took a dim view and reminded the trainer that the race had a worldwide audience. The trainer apologised.