Racing News

Monday 6th January 2020
Champ Takes Fall - Will Look to Rebound Ahead of Cheltenham Festival

As horse players learn far too often, the unexpected happens a lot more frequently than most people would want to admit. This past weekend's unexpected fall of chase monster Champ served as another reminder that nothing is in the bag until a horse crosses the finish line with the jockey still on-board.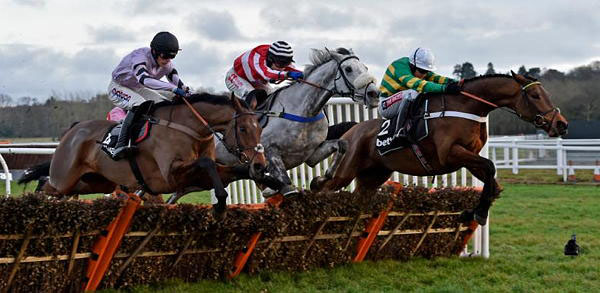 The scene was the Grade 2 Dipper Novices' Chase at the aforementioned Cheltenham Race Course. As Champ approached the second to last fence, the rising star did something he had not done as of yet, he made a big mistake. The mistake was a fall that led to the 8-year old Bay gelding not finishing what he started for the first in his career, a career that now spans 12 races over the fences.
At the time of Champ's fall, jockey Barry Geraghty had his steed comfortably in front, seemingly on cruise control on his way to a 3rd straight win and 9th over his 12 career starts. Geraghty was very confident until the fateful moment when Champ appeared to take a peek at the grandstand and lost his concentration. In a matter of a couple of seconds, Champ and the rider were hitting the turf, giving way to eventual winner Midnight Shadow.
In Geraghty's own words to the press, "He traveled brilliantly but just rolled around a bit going to the second-last and I'd say he was looking at the stands and not what was in front of him – otherwise it was brilliant."
Trainer Nicky Henderson was in complete agreement about how well Champ was traveling when he hit the fence. With understandable shock and disappointment in his voice, Henderson said to the press: "He was really enjoying himself and jumped beautifully. I thought it was the best he'd jumped this season. He had everything under control and Barry said he was full of petrol."
A Change of Plans
While Henderson was originally planning on taking Champ straight to the RSA Insurance Novices' Chase is a Grade 1 National Hunt chase in March on this same course, he now faces the prospect of tweaking his original plan.
Henderson stated: "I wasn't planning on running him again before the festival and then stepping him up to three miles, but we'll have to wait and see. There are millions of ways to skin a cat and there are races like the Reynoldstown that could come into the equation, but you'd hardly want him to go to Cheltenham off the back of what he's done there."
At this point, punters have not been swayed by this new chink in Champ's armor. He is still listed as the 3 to 1 favorite heading into the RSA. Anyone interested is placing a bet can get access through different options  with no deposit chances, including a site like this that can also provide a one spin casino review. 
None of this is intended to take anything from race winner Midnight Shadow, a horse that ran an excellent race in his own right. The only flaw in the horse's performance was a temporary stall at the 100 yard point before jockey Danny Cook got his mount back in stride to finish off the competition.
According to trainer Sue Smith: "He was always going to be a chaser and he's done it nicely, we don't know what the situation would have been had the other horse not fallen because he's a confirmed three-miler and we're not just yet. We're really happy with him."