---
Martin Pipe Handicap Hurdle

(Conditional Jockeys)
Cheltenham 16:50
£65,000 added, 4yo plus,
2m 4f 110y, Class 2  
Friday 17th March 2017

1 Champagne Classic 12/1
2 Verni 25/1
3 Runfordave 9/1
4 Coo Star Sivola 13/2
23 ran NR: Protek Des Flos
Distances: 2¼l, 1¼l, ½l
Time: 4m 55.90s (slow by 8.90s)
Champagne Classic wins the Martin Pipe Handicap Hurdle for Gordon Elliott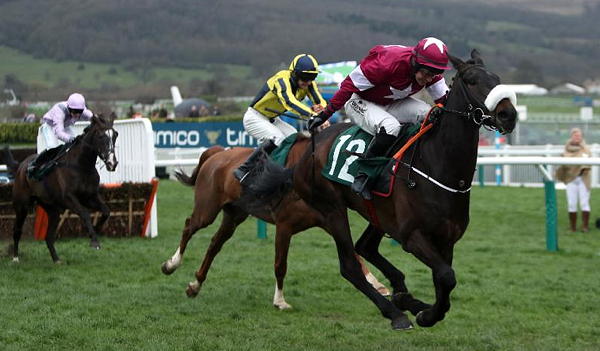 Champagne Classic wins under J J Slevin
© David Davies/PA Wire/PA Images
The Gordon Elliott-trained Champagne Classic, owned by Gigginstown House Stud, was a ready winner of the Martin Pipe Conditional Jockeys' Handicap Hurdle.

Always travelling well under J J Slevin, the six-year-old son of Stowaway kept on nicely after the final flight to score by two and a quarter lengths from Philip Hobbs' Verni in second.

Champagne Classic's stable companion Runfordave was a length and a quarter back in third with a further half-length back to Nick Williams' Coo Star Sivola in fourth.

The gelding's victory sees Elliott take over from Willie Mullins at the top of the Irish Independent Leading Trainer Award standings for this year's Festival, with both handlers having six winners, but Elliott has had three seconds against two for Mullins.

Elliott said: "I'm delighted. To have six winners at the Cheltenham Festival is special. It's unbelievable and I just can't believe it - it's brilliant."

Michael O'Leary, owner of Gigginstown House Stud, said: "I think that was a miraculous event. He is probably the worst horse we own! We buy them in numbers and you get a few duds - he is one of the duds!

"However, it means a lot to Gordon to win this race as he has wanted to win it for many years. He will really enjoy that.

"J J gave him a great ride and it's good for him. He is a very good young jockey in Ireland. I don't know much about him. I know he has ridden a couple of winners for us."

Phillip Hobbs, trainer of second-placed horse, said: "He's run really well, he is probably still on the up a bit and the two-and-a-half miles suited him better.

Tom Cheesman, jockey of the second, added: "He travelled well, maybe a bit handier that I wanted but I thought it was important in that race to be as handy. He has travelled all the way through the race."

"I saw the winner come up on the outside and ideally I wanted to get a tow to the last and then take it up, which is what we did. We have just been beaten by a better horse on the day. He has run really well and hopefully it will be something to look forward to?"
Martin Pipe Conditional Jockeys' Handicap Hurdle
£65,000 added, 4yo plus, 2m 4f 110y, Class 2
23 ran
Going: Good
Pos
D
Horse SP
Jockey Weight
Trainer
Age
1st
Champagne Classic (IRE) 12/1
J J Slevin
11-3
G Elliott
6
2nd
2&frac14
Verni (FR) 25/1
Thomas Cheesman
11-0
P J Hobbs
8
3rd
1&frac14
Runfordave (IRE) 9/1
D Meyler
11-5
G Elliott
5
4th
&frac12
Coo Star Sivola (FR) 13/2
Lizzie Kelly
11-3
Nick Williams
5
5th
nk
Thomas Campbell 20/1
Ned Curtis
11-2
N J Henderson
5
6th
1&frac34
Born Survivor (IRE) 33/1
Bridget Andrews
11-8
D Skelton
6
7th
6
No Comment 15/2
C Gethings
11-2
P J Hobbs
6
8th
3
Battleford 9/2f
A W Short (5)
11-0
W P Mullins
6
9th
1&frac14
Dadsintrouble (IRE) 14/1
Harry Cobden
11-1
Tim Vaughan
7
10th
hd
Castello Sforza (IRE) 11/1
Jonathan Moore
11-3
W P Mullins
6
11th
3&frac12
Tommy Silver (FR) 20/1
Stan Sheppard
11-5
P F Nicholls
5
12th
6
Taglietelle 20/1
Cian Collins (3)
11-10
G Elliott
8
13th
&frac34
Doesyourdogbite (IRE) 33/1
Killian Moore
11-2
Jonjo O'Neill
5
14th
s.h
Massini's Trap (IRE) 100/1
Kieron Edgar
11-3
J Nash
8
15th
&frac12
Remiluc (FR) (ex5) 50/1
Harry Reed (3)
11-4
C Gordon
8
16th
2&frac34
Lac Fontana (FR) 20/1
Jack Sherwood
11-4
P F Nicholls
8
17th
hd
Pain Au Chocolat (FR) 100/1
Lewis Gordon (5)
11-2
D Skelton
6
18th
13
Dell' Arca (IRE) 33/1
David Noonan
11-3
D Pipe
8
19th
s.h
Ballyhill (FR) 80/1
Jamie Bargary
11-1
N A Twiston-Davies
6
20th
48
Catamaran Du Seuil (FR) 33/1
Charlie Hammond (5)
11-0
Dr R D P Newland
5
PU
I Shot The Sheriff (IRE) 20/1
S A Shortall
11-4
A J Martin
10
F
Gibralfaro (IRE) 50/1
Thomas Bellamy
11-8
A King
5
UR
Rather Be (IRE) 10/1
Charlie Deutsch
11-1
N J Henderson
6
NR
Protek Des Flos (FR) 20/1
Jack Savage (5)
11-1
N J Henderson
5
SLEVIN SCORES A CLASSIC VICTORY

JJ Slevin picked up a first Festival victory when guiding Champagne Classic to win the Martin Pipe Conditional Jockey's Handicap Hurdle. The Gordon Elliott-trained 12/1 chance beat Verni by two and a quarter lengths.

"This means the world. It's something I've dreamed about from a very young age - when you are young riding ponies and messing about in fields, this is where you want to be, and this is something I thought would never happen.

"I got the ride yesterday. Then other people rang me wanting to ride their horse, and I tried to get off Champagne Classic, but luckily Gordon wouldn't let me! I was very lucky he didn't.

"Champagne Classic's a fine, big, scopey horse who was the winner everywhere, jumping and travelling well.

"Gordon has had an unbelievable week and it is a privilege to ride for him.

"My father trains at home in Wexford and I started riding his point-to-pointers. He's stood by me the whole way and I owe him an awful lot. Joseph O'Brien has been very good to me this season - he's got a lot of exciting jumpers there.

"I turned professional last September and I genuinely thought I wouldn't have a ride here this week. It's unbelievable putting these colours [those of Gigginstown House Stud] on my back. I broke my ribs about a month ago and only started riding again last Thursday."
Martin Pipe Conditional Jockeys' Handicap Hurdle Previous Results
2016-WINNER-IBIS DU RHEU 5-11-07 Owner-John Hales; Trainer-Paul Nicholls; Jockey-Jack Sherwood; SP-14/1
2ND-Flying Angel 5-11-06 Owner-R J Renton; Trainer-Nigel Twiston-Davies; Jockey-Ryan Hatch; SP-8/1
3RD-Sky Khan 7-11-03 Owner-The Ormello Way; Trainer-Lucinda Russell; Jockey-Derek Fox; SP-50/1
4TH-Tully East 6-11-08 Owner-Barry Connell; Trainer-Alan Fleming IRE; Jockey-Shane Shortall; SP-50/1
24 ran, Time-4m 51.70s; Dist-1¼, 1¼, 6 9/4 Fav Squouateur (7th)
2015-WINNER-KILLULTAGH VIC 6-11-01 Owner-Rose Boyd/B Anderson/Mrs M Armstrong; Trainer-Willie Mullins IRE; Jockey-Luke
Dempsey; SP-7/1
2ND-Noble Endeavour 6-11-06 Owner-Chris Jones; Trainer-Gordon Elliott IRE; Jockey-Kevin Sexton; SP-14/1
3RD-Roi Des Francs 6-11-05 Owner-Gigginstown House Stud; Trainer-Willie Mullins IRE; Jockey-David Mullins; SP-3/1 Fav
4TH-Kauto Grand Mogol 7-11-01 Owner-J C Delamere/D McCorkell/H Catherwood; Trainer-Liz Doyle IRE; Jockey-Jody McGarvey; SP-33/1
21 ran, Time-5m 3.10s; Dist-hd, 4½, 6
2014-WINNER-DON POLI 5-11-05 Owner-Gigginstown House Stud; Trainer-Willie Mullins IRE; Jockey-Mikey Fogarty; SP-12/1
2ND-Thomas Crapper 7-10-05 Owner-apis.uk.com; Trainer-Robin Dickin; Jockey-Joseph Palmowski; SP-10/1
3RD-Caid Du Berlais 5-11-05 Owner-Donlon, Doyle, MacDonald & C Barber; Trainer-Paul Nicholls; Jockey-Harry Derham; SP-9/1
4TH-Urbain De Sivola 6-10-06 Owner-Chris Giles; Trainer-Paul Nicholls; Jockey-Andrias Guerin; SP-33/1
24 ran, Time-4m 48.58s, Dist-4½, 1¼, 1¾ 9/2 Fav Full Shift (11th)
2013-WINNER-SALUBRIOUS 6-11-05 Owner-The Johnson & Stewart Families; Trainer-Paul Nicholls; Jockey-Harry Derham; SP-16/1
2ND-Nagpur 7-11-00 Owner-Miss S Douglas-Pennant; Trainer-Venetia Williams; Jockey-Tom Cannon; SP-33/1
3RD-Double Ross 7-11-06 Owner-Options O Syndicate; Trainer-Nigel Twiston-Davies; Jockey-Adam Wedge; SP-14/1
4TH-Make Your Mark 6-10-08 Owner-Gigginstown House Stud; Trainer-Willie Mullins IRE; Jockey-Declan Lavery; SP-8/1
23 ran, Time-5m 18.60s, Dist-7, 1, 3¾ 9/4 Fav Gevrey Chambertin (PU)
2012-WINNER-ATTAGLANCE 6-11-03 Owner-H Young, G Eifert, R Snyder; Trainer-Malcolm Jefferson; Jockey-Harry Haynes; SP-20/1
2ND-Toner D'Oudairies 5-11-01 Owner-Gigginstown House Stud; Trainer-Gordon Elliott IRE; Jockey-Keith Donoghue; SP-7/1
3RD-Oscar Nominee 5-10-13 Owner-Michael Buckley; Trainer-Nicky Henderson; Jockey-David Bass; SP-10/1
4TH-Make A Track 6-10-12 Owner-Gigginstown House Stud; Trainer-Charlie Swan IRE; Jockey-Ben Dalton
24 ran, Time-4m 51.6s, Dist-nk, nk, 1½ 9/2 Fav Bourne (9th)
2011-WINNER-SIR DES CHAMPS 5-11-03 Owner-Gigginstown House Stud; Trainer-Willie Mullins IRE; Jocket-Emmet Mullins; SP-9/2 Fav
2ND-Son Of Flicka 7-11-06 Owner-Twenty Four Seven Recruitment; Trainer-Donald McCain; Jockey-Henry Brooke; SP-28/1
3RD-First Point 8-11-07 Owner-The Third Pheasant Inn Partnership; Trainer-Nicky Henderson; Jockey-David Bass; SP-20/1
4TH-Indian Daudaie 4-11-03 Owner-Timeform Betfair Racing Club & Clive Smith; Trainer-Paul Nicholls; Jockey- James Cowley; SP-25/1
23 ran, Time-4m 55.22s; Dist- ½, 2, 4
2010-WINNER-PAUSE AND CLAUSE 6-11-10 Owner-Robert Cohen; Trainer-Emma Lavelle; Jockey-Johnny Farrelly; SP-14/1
2ND-Radium 5-11-04 Owner-Simon Munir; Trainer-Nicky Henderson; Jockey-Harry Skelton; SP-14/1
3RD-Clova Island 7-11-00 Owner-Mrs Peter Prowting; Trainer-Philip Hobbs; Jockey-Giles Hawkins; SP-14/1
4TH-Peveril 6-11-03 Owner-Trevor Hemmings; Trainer-Nicky Henderson; Jockey-David Bass; SP-5/1 24 ran, Time-5m 5.25s; Dist-3¼, 1¼, 2¾ 9/2 Fav Ashkazar (7th)
2009-WINNER-ANDYTOWN 6-11-02 Owner-Richard & Lizzie Kelvin Hughes; Trainer-Nicky Henderson; Jockey-Felix de Giles; SP-25/1
2ND-Midnight Chase 7-11-00 Owner-Lady Clarke; Trainer-Neil Mulholland; Jockey-Michael O'Connor; SP-100/1
3RD-Big Eared Fran 6-11-02 Owner-Thomas Barr; Trainer-David Pipe; Jockey-Johnny Farrelly; SP-7/2 Fav
4TH-Font 6-10-11 Owner-Mr & Mrs R Nevison & Mr & Mrs Ged Mason; Trainer-Paul Nicholls; Jockey-Harry Skelton; SP-14/1 23 ran, Time-4m 58.52s; Dist-9, 7, 2