---
Betfred Cheltenham Gold Cup

Grade 1, Cheltenham 15:20
£550,000 added,
5yo plus,
3m 2f 110y, Class 1
Friday 13th March 2015
1 Coneygree 7/1
2 Djackadam 10/1
3 Road To Riches 8/1
4 Holywell 8/1
NR: Don Cossack (GER), River Choice (FR)
16 ran Distances: 1½l, 2l, 6l
TIME 6m 42.50s (slow by 5.50s)
Novice chaser Coneygree, on his fourth outing over fences, made all of the running in the feature race of The Festival 2015, the £550,000 Betfred Cheltenham Gold Cup, and became the first novice to win since Captain Christy in 1974.
Coneygree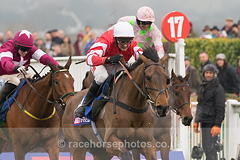 Nico de Boinville, the winning jockey, said: "It's the best feeling ever, unbelievable, I'm lost for words. It was a great plan (to go for the Gold Cup). They knew the weather gods were looking down on us - the rain came at the right time, ideal.

"Coneygree is so deceptive. Even when he is in tight, he is brilliant. It is all thanks to the Bradstock family, Alfie, who show jumps him and gets him to know where his feet are.

"It's just unbelievable. It's a great family effort and I must thank the owners - Lady Oaksey and the syndicate, and the Bradstock family - for keeping the faith in me.

"These horses only come once in a lifetime and I am very grateful because I didn't ride him at Newbury and fair play to Dickie (Johnson), he is a hell of a guy and was very good to me there.

"It's still sinking in."

Mark Bradstock commented: "It's wonderful. It won't sink in for a while but it is great. We have done it before in smaller races and we will still keep doing it but it is obviously fantastic to do it on the big stage.

"I am not very good at watching races and I won't be very fit in the morning but, when I do get round to watching it, you will have to ask me then.

"The decision was very tricky because the forecast was so up and down. We were obviously liaising very closely with Simon Claisse, walking the course. The rain was meant to be here Tuesday, then Wednesday, then it never arrived. Luckily, we made the right decision.

"Coneygree is a gorgeous, gorgeous horse and it is just so tragic that Sarah's dad wasn't here - he had the bet on wrong horse, a big bet on Carruthers winning - and I think that is the downside. I am sure he was probably still watching us now.

"It's all very well me standing here but the likes of my wife, who is not very well and rides him every single day, and the kids are involved. Chicky has been so wonderful and then the farriers and the vet. I could just carry on - it's brilliant."

Sara Bradstock added: "That was cool, wasn't it? He is wonderful. Dad's not here but he is here in spirit. I can't believe it. I have been saying to people "when we win the Gold Cup" in the same breath that I say "when we win the lottery" - it's that amazing.

"Because he has had so much time off, Coneygree hasn't been off all that time so he is quite wise in his own way."

Alfie Bradstock declared: "He is just amazing. He is the most pleasant horse to work with - he does everything you ask him and just tries so hard with everything. He is amazing."
Betfred Cheltenham Gold Cup Chase (Grade 1)
£550,000 added, 5yo plus, 3m 2f 110y, Class 1
16 ran
Going: Soft, Good to Soft in places
Pos
Dist
Horse SP
Jockey Weight
Trainer
Age
1st
Coneygree 7/1
Nico de Boinville
11-10
M Bradstock
8
2nd
1&frac12
Djakadam (FR) 10/1
R Walsh
11-10
W P Mullins
6
3rd
2
Road To Riches (IRE) 8/1
B J Cooper
11-10
N Meade
8
4th
6
Holywell (IRE) 8/1
R P Mclernon
11-10
Jonjo O'Neill
8
5th
14
On His Own (IRE) 33/1
Mr P W Mullins
11-10
W P Mullins
11
6th
1
Many Clouds (IRE) 7/1
L P Aspell
11-10
O Sherwood
8
7th
2&frac12
Silviniaco Conti (FR) 3/1f
N D Fehily
11-10
P F Nicholls
9
8th
hd
Smad Place (FR) 25/1
W Hutchinson
11-10
A King
8
9th
&frac34
Carlingford Lough (IRE) 14/1
A P McCoy
11-10
J E Kiely
9
10th
14
Boston Bob (IRE) 33/1
P Townend
11-10
W P Mullins
10
11th
nse
Houblon Des Obeaux (FR) 33/1
Aidan Coleman
11-10
Miss V Williams
8
PU
Bobs Worth (IRE) 16/1
B J Geraghty
11-10
N J Henderson
10
PU
Home Farm (IRE) 100/1
D J Casey
11-10
H De Bromhead
8
PU
Lord Windermere (IRE) 20/1
D N Russell
11-10
J H Culloty
9
PU
Sam Winner (FR) 20/1
S Twiston-Davies
11-10
P F Nicholls
8
PU
The Giant Bolster 33/1
T Scudamore
11-10
D G Bridgwater
10
NR
Don Cossack (GER)
D J Condon
11-10
G Elliott
8
NR
River Choice (FR)
D Cottin
11-10
R Chotard
12

Sara Bradstock says fairy tales do happen

After Coneygree's brilliant front-running victory in the Betfred Cheltenham Gold Cup, Sara Bradstock, wife of trainer Mark and daughter of Coneygree's breeder, the late Lord Oaksey, said: "It's so unbelievable. In the last month I've been on the yard from 6am to 10pm, and it's all for this.

"It means anyone can do it. It doesn't need hundreds of thousands. He doesn't know he's a novice, does he?

"I've been saying when we win the Gold Cup in the same sentence as I say when we win the Lottery, and I don't even do the Lottery! So that's how amazing it is. It doesn't happen to people like us.

"The little mare [Coneygree's dam, Plaid Maid, also dam of 2011 Hennessy Gold Cup winner Carruthers] cost £3,000 and look what she's done. Fairy tales do happen.

"It's because my father was the greatest. That's where we've got this luck from; he deserved it and he's looking down.

"People were saying to me after Newbury, would Nico [de Boinville, Coneygree's jockey - Richard Johnson rode the horse at Newbury to win the Denman Chase] get the ride back, and of course he would. He rides this horse beautifully. I think he'll be a great jockey. He just knows his balance and the gallop he can go."

When asked whether there would be celebrations tonight or whether it would be back to work as normal, she said: "A little bit back to work because my favourite person, Carruthers [Coneygree's half-brother], runs tomorrow [in the Betfred Midlands Grand National], so I couldn't let him down. I might not be at my best, however!"

Lady Oaksey, widow of Coneygree's breeder Lord Oaksey, said: "Could you believe that? I just can't believe it and I have been asking myself what decision would John have made. As it turns out, it was a very good decision because you look at Don Poli and Vautour and, to win this now - you dream.

"We knew that he was a good horse but it's just amazing, absolutely amazing. What's so lovely is that the filly was covered by Kayf Tara at 3.15pm today, so the story continues."

Djakadam and Riches chase home new star Coneygree

There was no catching all-the-way winner Coneygree, but the placed horses each ran with great credit.

The race's youngest runner, six-year-old Djakadam, edged past third-placed Road To Riches on the run-in, but finished a length and a half behind the winner. Road To Riches was a further two lengths behind, while Holywell took fourth, another six lengths further back.


Willie Mullins, who trains Djakadam said: "That was a tremendous run by a six-year-old, but what a huge and brave decision to run the winner when he's still a novice. We applaud his connections. We have no excuses - we got the run of the race and our horse ran and jumped so well.

"He is a big horse, but mature enough for his age. We are very lucky to be able to buy such lovely horses and it makes the job a lot easier. I should think he will now go for the Punchestown Gold Cup."
Noel Meade, the trainer of Road To Riches, said: "I am very proud of the horse. He jumped brilliantly, he did everything right, but he was beaten fair and square. The drop of rain that fell was not in our favour - I'm not saying he didn't handle it, but it suited the first two more than our horse. He jumped brilliantly over the last two and I thought he was going to get there but just got tired on the run-in.

"I should think he might go to Punchestown but we will see when we get home."

Michael O'Leary, who owns Road To Riches, said: "The couple of drops of rain might have cost us, because we were essentially outstayed, but he's run a brilliant race. Bryan Cooper gave our horse a superb ride, but Coneygree must be some horse to go and do that. To be fair we stayed with him until the end, and it seems a new order is taking over.

"We'd like to be back next year, but we have Willie's novice battalions coming through so it's not getting any easier. It's a great privilege to be in the winner's enclosure after a Gold Cup - I'd like to be in the number one spot, but it's better to be here in third than out with the also-rans."

Jonjo O'Neill, who trains Holywell, said: "He's run a blinder - the little drop of rain we had didn't help us, but the winner has run a blinder and it was a pleasure to watch. They went a right good gallop - I felt we had a chance coming down the hill, but he had put so much effort into his jumping that there was nothing left. He won't have had an easy race today, and while he's a tough little devil we will wait and see before making any decisions about running at Aintree."