Queen Anne Stakes

Group 1, Ascot 14:30
£647,500 added,
4yo plus,
1m, Class 1  
Tuesday 19th June 2018
1 Accidental Agent 33/1
2 Lord Glitters 20/1
3 Lightning Spear 10/1
15 ran Distances: ½l, nk, nse
Time: 1m 38.85s (slow by 0.25s)
Accidental Agent wins the Queen Anne Stakes!
A massive shock in the opener at #RoyalAscot!

Accidental Agent wins the Queen Anne Stakes at @Ascot

Watch LIVE on @ITV pic.twitter.com/Qmti4hp3Qt

— ITV Racing (@itvracing) June 19, 2018
Accidental Agent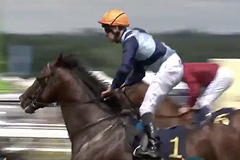 Trained by Eve Johnson Houghton, the four-year-old was a largely unconsidered 33-1 shot for the Group One contest over the straight mile, having finished sixth behind the reopposing Rhododendron in last month's Lockinge Stakes at Newbury.
With Deauville setting the fractions in front, Charles Bishop took his time aboard Accidental Agent, settling him at the very rear of the field before making his move inside the final three furlongs.
As Rhododendron weakened out of contention, Lockinge runner-up Lightning Spear looked to have every chance of going one better as the post loomed, but he was caught late on by both 20-1 shot Lord Glitters and Accidental Agent.
Like Rhododendron, the well-backed 11-4 favourite Benbatl was disappointing.
Queen Anne Stakes (British Champions Series)
£647,500 added, 4yo plus, 1m, Class 1
15 ran
Going: Good to Firm
Pos
Dr
D
Horse SP
Jockey Weight
Trainer
Age
1st
(4)
Accidental Agent 33/1
Charles Bishop
9-0
Eve Johnson Houghton
4
2nd
(6)
&frac12
Lord Glitters (FR) 20/1
J P Spencer
9-0
D O'Meara
5
3rd
(5)
nk
Lightning Spear 10/1
Oisin Murphy
9-0
D M Simcock
7
4th
(12)
nse
Century Dream (IRE) 20/1
W Buick
9-0
S Crisford
4
5th
(13)
&frac12
Yoshida (JPN) 11/1
Jose Ortiz
9-0
William Mott
4
6th
(11)
&frac12
Beat The Bank 22/1
Jim Crowley
9-0
A M Balding
4
7th
(1)
1&frac12
Recoletos (FR) 6/1
O Peslier
9-0
C Laffon-Parias
4
8th
(8)
1&frac14
So Beloved 100/1
P Makin
9-0
D O'Meara
8
9th
(14)
&frac12
Rhododendron (IRE) 10/3
R L Moore
9-0
A P O'Brien
4
10th
(7)
hd
Benbatl 11/4f
C Soumillon
9-0
S bin Suroor
4
11th
(9)
s.h
Oh This Is Us (IRE) 66/1
Tom Marquand
9-0
R Hannon
5
12th
(10)
nk
Deauville (IRE) 16/1
D O'Brien
9-0
A P O'Brien
5
13th
(3)
4
Limato (IRE) 12/1
James Doyle
9-0
H Candy
6
14th
(2)
2&frac34
Suedois (FR) 33/1
D Tudhope
9-0
D O'Meara
7
15th
(15)
4
Zonderland 40/1
A Kirby
9-0
C G Cox
5
THE QUEEN ANNE STAKES
Past Results
2017-WINNER-RIBCHESTER 4-9-00 Owner-Godolphin; Trainer-Richard Fahey; Jockey-William Buick; SP-11/10F
2ND-Mutakayyef 6-9-00 Owner-Hamdan Al Maktoum; Trainer-William Haggas; Jockey-Jim Crowley; SP-5/1
3RD-Deauville 4-9-00 Owner-Fitri Hay, Michael Tabor, Sue Magnier, Derrick Smith; Trainer-Aidan O'Brien IRE; Jockey-Ryan Moore; SP-12/1
16 ran; Time-1m 36.60s; Dist-11⁄4, nk
2016-WINNER-TEPIN 5-8-11 Owner-Robert Masterson; Trainer-Mark Casse USA; Jockey-Julien Leparoux; SP-11/2
2ND-Belardo 4-9-00 Owner-Godolphin & Prince A A Faisal; Trainer-Roger Varian; Jockey-James Doyle; SP-9/2 Jt Fav
3RD-Lightning Spear 5-9-00 Owner-Qatar Racing Limited; Trainer-David Simcock; Jockey-Oisin Murphy; SP-20/1
13 ran; Time-1m 43.98s; Dist-1⁄2, 11⁄4 9/2 Jt Fav Ervedya (5th)
2015-WINNER-SOLOW -9-00 Owner-Wertheimer & Frere; Trainer-Freddy Head FR; Jockey-Maxime Guyon; SP-11/8 Fav
2ND-Esoterique 5-8-11 Owner-Baron Edouard De Rothschild; Trainer-Andre Fabre FR; Jockey-Pierre Charles-Boudot; SP-16/1
3RD-Cougar Mountain 4-9-00 Owner-Michael Tabor, Derrick Smith & Sue Magnier; Trainer-Aidan O'Brien IRE; Jockey-Ryan Moore: SP-16/1
8 ran; Time-1m 37.97s; Dist-1, nk
2014-WINNER-TORONADO 4-9-00 Owner-Al Shaqab Racing; Trainer-Richard Hannon; Jockey- Richard Hughes; SP-4/5 Fav
2ND-Verrazano 4-9-00 Owner-Sue Magnier, Michael Tabor & Derrick Smith; Trainer-Aidan O'Brien IRE; Jockey-Joseph O'Brien; SP-6/1
3RD Anodin 4-9-00 Owner-Wertheimer & Frere; Trainer-Freddy Head FR; Jockey-Olivier Peslier; SP-9/1
10 ran; Time-1m 37.73s; Dist-3⁄4, 11⁄4
2013-WINNER-DECLARATION OF WAR 4-9-00 Owner-Sue Magnier, Michael Tabor, Derrick Smith & Joseph Allen; Trainer-
Aidan O'Brien IRE; Jockey-Joseph O'Brien; SP-15/2
2ND-Aljamaaheer 4-9-00 Owner-Hamdan Al Maktoum; Trainer-Roger Varian; Jockey-Paul Hanagan; SP-8/1
3RD-Gregorian 4-9-00 Owner-Princess Haya Of Jordan; Trainer-John Gosden; Jockey-Tom Queally; SP-16/1
13 ran; Time-1m 38.48s; Dist-¾, ½ 5/4 Fav Animal Kingdom (11th)
2012-WINNER-FRANKEL 4-9-00 Owner-Khalid Abdullah; Trainer-Sir Henry Cecil; Jockey-Tom Queally; SP-1/10 Fav
2ND-Excelebration 4-9-00 Owner-Derrick Smith, Sue Magnier & Michael Tabor; Trainer-Aidan O'Brien IRE; Jockey-Joseph O'Brien; SP-5/1
3RD-Side Glance 5-9-00 Owner-Qatar Racing Limited; Trainer-Andrew Balding; Jockey-Jimmy Fortune; SP-33/1
11 ran, Time-1m 37.85s; Dist 11, nk
2011-WINNER-CANFORD CLIFFS 4-9-00 Owner-The Heffer Syndicate, Michael Tabor & Derrick Smith; Trainer-Richard Hannon; Jockey-Richard Hughes; SP-11/8
2ND-Goldikova 6-8-13 Owner-Wertheimer et Frere; Trainer-Freddy Head FR; Jockey-Olivier Peslier; SP-5/4 Fav
3RD-Cityscape 5-9-00 Owner-Khalid Abdullah; Trainer-Roger Charlton; Jockey-Ryan Moore; SP-14/1
7 ran, Time-1m 38.38s; Dist: 1, 1¾
2010-WINNER-GOLDIKOVA 5-8-11 Owner-Wertheimer et Frere; Trainer-Freddy Head FR; Jockey-Olivier Peslier; SP-11/8 Fav
2ND-Paco Boy 5-9-00 Owner-The Calvera Partnership No 2; Trainer-Richard Hannon; Jockey-Richard Hughes; SP-11/4
3RD-Dream Eater 5-9-00 Owner-Jeff Smith; Trainer-Andrew Balding; Jockey-Jimmy Fortune; SP-50/1
10 ran, Time-1m 37.74s; Dist: nk, 3¼
2009-WINNER- PACO BOY 4-9-00 Owner-The Calvera Partnership No 2; Trainer-Richard Hannon; Jockey-Richard Hughes; SP-100/30
2ND-Cesare 8-9-00 Owner-Cheveley Park Stud Ltd; Trainer-James Fanshawe; Jockey-Johnny Murtagh; SP-11/1
3RD-Aqlaam 4-9-00 Owner-Hamdan Al Maktoum; Trainer-William Haggas; Jockey-Richard Hills; SP-10/1
9 ran, Time-1m 39.31s; Dist: 1½, ½. 9/4 Fav Gladiatorus (6th)
2008-WINNER-HARADASUN 5-9-00 Owner-Frank Tagg/Sue Magnier/Frank Meduri/Garry Moffitt; Trainer-Aidan O'Brien
IRE; Jockey-Johnny Murtagh; SP-5/1
2ND-Darjina 4-8-11 Owner-Princess Zahra Aga Khan; Trainer-Alain De Royer-Dupre FR; Jockey-Christophe Soumillon; SP-5/1
3RD-Finsceal Beo 4-8-11 Owner-Michael Ryan; Trainer-Jim Bolger IRE; Jockey-Kevin Manning; SP-9/2 Fav
11 ran, Time-1m 38.98s, Dist: hd, ¾
2007-WINNER-RAMONTI 5-9-00 Owner-Godolphin; Trainer-Saeed bin Suroor; Jockey-Frankie Dettori; SP-5/1
2ND-Jeremy 4-9-00 Owner-Betty Moran; Trainer-Sir Michael Stoute; Jockey-Ryan Moore; SP-14/1
3RD-Turtle Bowl 5-9-00 Owner-B van Dalfsen; Trainer-Francois Rohaut FR; Jockey-Olivier Peslier; SP-33/1
8 ran, Time-1m 37.21s, Dist: sh, sh 10/11 Fav George Washington (4th)
2006-WINNER-AD VALOREM 4-9-00 Owner-Sue Magnier & Bob Ingham; Trainer-Aidan O'Brien IRE; Jockey-Kieren Fallon; SP-13/2
2ND-Court Masterpiece 6-9-00 Owner-Gainsborough Stud; Trainer-Ed Dunlop; Jockey-Jamie Spencer; SP-11/2
3RD-Proclamation 4-9-00 Owner-Godolphin; Trainer-Saeed bin Suroor; Jockey-Frankie Dettori; SP-2/1
7 ran, Time-1m 40.0s, Dist: 1½, nk 7/4 Fav Peeress (4th)
2005-WINNER-VALIXIR 4-9-00 Owner-H H Aga Khan; Trainer-Andre Fabre FR; Jockey-Christophe Soumillon; SP-4/1
2ND-Rakti 6-9-00 Owner-Gary Tanaka; Trainer-Michael Jarvis; Jockey-Philip Robinson; SP-5/6 Fav
3RD-Starcraft 5-9-00 Owner-The Australian Syndicate; Trainer-Luca Cumani; Jockey-Darryll Holland; SP-7/1
10 ran, Time-1m 36.64s Dist: 1½, ½ (Run at York)
2004-WINNER-REFUSE TO BEND 4-9-00 Owner-Godolphin; Trainer-Saeed bin Suroor; Jockey-Frankie Dettori; SP-12/1
2ND-Soviet Song 4-8-11 Owner-Elite Racing Club; Trainer-James Fanshawe; Jockey-Johnny Murtagh; SP-6/1
3RD-Salselon 5-9-00 Owner-Scuderia Briantea Srl; Trainer-Luca Cumani; Jockey-Darryll Holland; SP-12/1
16 ran, Time-1m 39.14s Dist: nk, ¾ 5/2 Fav Six Perfections (6th)
2003-WINNER-DUBAI DESTINATION 4-9-00 Owner-Godolphin; Trainer-Saeed bin Suroor; Jockey-Frankie Dettori; SP-9/2
*2ND-Right Approach 4-9-00 Owner-The Queen; Trainer-Sir Michael Stoute; Jockey-Kieren Fallon; SP-20/1
3RD-Where Or When 4-9-00 Owner-John Humphreys (Turf Accountants Ltd); Trainer-Terry Mills; Jockey-Kevin Darley; SP- 8/1
10 ran, Time-1m 38.56s Dist: 4, ¾ 8/13 Fav Hawk Wing (7th)
*Tillerman originally finished second but was disqualified after failing a post-race urine test