bet365 Charlie Hall Chase

Grade 3 Handicap, Wetherby
£100,000 added,
5yo plus,
3m 45y, Class 1  
Saturday 3rd November 2018
Joe Tizzard believes Thistlecrack can get his career firmly back on track this season, with the bet365 Charlie Hall Chase at Wetherby his likely starting point.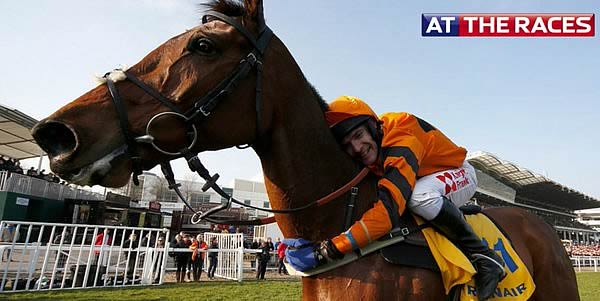 Now 10-years-old, Thistlecrack hasn't won a race since his brilliant King George VI Chase success at Kempton Park in December 2016.
He was beaten a month later by Many Clouds before suffering an injury that has badly curtailed him.
He had one run over hurdles at Newbury last term before going down the best part of six lengths in fifth behind Might Bite in the defence of his Kempton crown.
Wetherby is his likely starting point and, if successful, the Betfair Chase at Haydock and a clash with stablemate and Gold Cup winner Native River could loom up.
"Thistlecrack is a little bit older now so things have got to start to happen for him. We'll get him out early and get some runs into him. He'll start in the Charlie Hall first and then we'd have a look at the million-pound bonus," Tizzard said.
A million-pound bonus has been offered by Jockey Club Racecourses for the last three seasons if a horse can win the Betfair Chase at Haydock in November, the King George at Kempton on Boxing Day and the Gold Cup at Cheltenham in March.
The Tizzard team plan on allowing both Thistlecrack and Native River to have a chance to win the prize, if they are both well.
"Although we don't like them to clash, there are only so many races to run them in and they are both rated highly enough to deserve to run in those races," he added.
"We couldn't be happier with them, especially Thistlecrack. He is fully over his little problems of last season and we're now hoping to have a full and successful campaign with him."
Bristol De Mai is on course to make his seasonal return here, provided conditions are suitable.
The Nigel Twiston-Davies trained seven-year-old could use the Grade Two prize, which he claimed 12 months ago, as a stepping stone towards a repeat bid at glory in the Betfair Chase at Haydock later in the month.
Anthony Bromley, racing manager to owners Isaac Souede and Simon Munir, said: "Bristol De Mai ran well on his last run of the season at Aintree against Might Bite. It was nice to get a solid run into him at a high level.
"The plan at the moment is to go for the Charlie Hall, then hopefully head to the Betfair Chase again. After that I'm not sure where we go, as we haven't made any other plans.
"He is very much ground dependent. We wouldn't want to run him on good to firm ground and if he doesn't get to Wetherby he will have to go to the Betfair Chase first time up."
Bet365 Charlie Hall Chase 2017
£100,000 added, 5yo plus, 3m 45y, Class 1
8 ran
Going: Soft
Pos
D
Horse SP
Jockey Weight
Trainer
Age
1st
Bristol De Mai (FR) 6/1
D A Jacob
11-6
N A Twiston-Davies
6
2nd
&frac12
Blaklion 5/1
G Sheehan
11-0
N A Twiston-Davies
8
3rd
23
Definitly Red (IRE) 8/1
Danny Cook
11-4
B Ellison
8
4th
20
Vieux Lion Rouge (FR) 25/1
T Scudamore
11-4
D Pipe
8
5th
15
Shantou Flyer (IRE) 40/1
Adam Wedge
11-4
Richard Hobson
7
PU
Coneygree 7/4f
Nico de Boinville
11-0
M Bradstock
10
PU
Village Vic (IRE) 33/1
R Johnson
11-0
P J Hobbs
10
F
Cue Card 5/2
P J Brennan
11-6
C L Tizzard
11
NR
Double Shuffle (IRE)
A P Heskin
11-0
T R George
7
NR
Virgilio (FR)
Harry Skelton
11-0
D Skelton
8
The bet365 Charlie Hall Chase - Roll of Honour
YEAR  HORSE     AGE/WT OWNER       TRAINER    JOCKEY   SP  RAN
2016 
Irish Cavalier
  7-11-06 Andrew McIver   Rebecca Curtis Jonathan Moore 16/1 7
2015 
Cue Card
 9-11-00 Jean Bishop   Colin Tizzard Paddy Brennan 11/4F 7
2014
Menorah
9-11-10 Diana Whateley
Philip Hobbs Richard Johnson 8/1 7
2013  
Harry Topper
   6-11-06 D J Keyte    Kim Bailey Jason Maguire  5/1  7
2012  
Silviniaco Conti
   6-11-05 Chris Giles & Potensis Ltd   Paul Nicholls Ruby Walsh  11/10F  6
2011  
Weird Al
   8-11-06 Brannon Dennis Dick Holden   Donald McCain Timmy Murphy  7/1  7
2010  
Nacarat
    9-11-00 Simon Clarke   Tom George Sam Thomas  6/1  8
2009  
Deep Purple
   8-11-05 Paul Green   Evan Williams Paul Moloney  9/2  5
2008  
State Of Play
8-11-00 William & Angela Rucker   Evan Williams  Paul Moloney  5/2F 6
2007  
Ollie Magern
9-11-00 Roger Nicholls   Nigel Twiston-Davies Paddy Brennan  11/4 7
2006  
Our Vic
8-11-10 David Johnson    David Pipe  Timmy Murphy  6/1  10
2005  Ollie Magern   7-11-05 Roger Nicholls   Nigel Twiston-Davies Carl Llewellyn  11/4F  8
2004  Grey Abbey   10-11-06  Ken & Elinor Roper, Norman Furness  Howard Johnson  Graham Lee  5/1  6
2003  Ballybough Rasher  8-11-00 Comtake-Welding Engineering Specialists Howard Johnson  Graham Lee  40/1  6
2002  Marlborough   10-11-00  Sir Robert Ogden   Nicky Henderson Mick Fitzgerald  7/2  8
2001  Sackville    8-11-05 Seamus O'Farrell   Frances Crowley IRE David Casey  5/1  9
2000  See More Business  10-11-12  Paul Barber   Paul Nicholls Mick Fitzgerald  1/3F  4
1999  See More Business 9-11-12 John Keighley & Paul Barber   Paul Nicholls Mick Fitzgerald  11/4JF  6
1998  Strath Royal   12-11-03  Lady Anne Bentinck  Owen Brennan Martin Brennan  14/1  5
1997  One Man    9-11-10 John Hales   Gordon Richards Richard Dunwoody  4/7F  4
1996  One Man    8-11-10 John Hales   Gordon Richards Richard Dunwoody 8/11F  4
1995  Barton Bank   9-11-02 Jenny Mould   David Nicholson Adrian Maguire  8/15F  3
1994  Young Hustler   7-11-10 Gavin Macechern   Nigel Twiston-Davies Carl Llewellyn  8/1  7
1993  Barton Bank   7-11-02 Jenny Mould   David Nicholson Adrian Maguire  12/1  7
1992  Tipping Tim   7-11-02 Jenny Mould   Nigel Twiston-Davies Carl Llewellyn  11/4  7
1991  Celtic Shot   9-11-10 D E H Horton   Charlie Brooks Graham Bradley  4/5F  6
1990  Celtic Shot   8-11-02 D E H Horton   Charlie Brooks Peter Scudamore  7/4F  7
1989  Durham Edition   11-11-02  Robert Oxley   Arthur Stephenson  Alan Merrigan  33/1  7
1988  High Edge Grey   7-11-02 J B Stone    Ken Oliver Tim Reed 13/2  10
1987  Cybrandian   9-11-02 Ian Bray    Peter Easterby Chris Grant  7/4 4
1986  Forgive'n Forget   9-11-10 T Kilroe & Sons Ltd  Jimmy FitzGerald Mark Dwyer  5/2  6
1985  Wayward Lad   10-11-06  Mrs S N Thewlis   Monica Dickinson Graham Bradley  EvensF  4
1984  Burrough Hill Lad   8-11-09 Stan Riley   Jenny Pitman Phil Tuck 10/11JF  4
1983  Wayward Lad   8-11-10 Mrs S N Thewlis   Michael Dickinson  Robert Earnshaw  1/3F  3
1982  Righthand Man   5-11-07 Mrs M Haggas   Michael Dickinson  Graham Bradley 11/10F  10
1981  Gay Return   6-11-10 Mrs R Quinn   Edward O'Grady IRE Tommy Ryan  12/1  11
1980  Manton Castle   6-11-09 Mrs M Pett   Maurice Camacho Gordon Holmes  16/1  9
1979  Sparkie's Choice   6-11-09 Mrs P Brewitt   Neville Crump Colin Hawkins  9/2  8
1978  Fighting Fit   6-11-09 Mrs L Carr   Ken Oliver Ridley Lamb  6/5F  5
1977  Goolagong   7-11-09 H Orde-Powlett   Neville Crump Mr Harry Orde-Powlett 8/1  8
1976  DH Current Gold   5-11-07 A Picken    Gordon Richards David Goulding  4/1  9
  Set Point    8-11-09 Lavinia, Duchess Of Norfolk   Lady Herries Tommy Stack  20/1
1975  Davy Lad  5-11-07 Mrs J McGowan   Mick O'Toole IRE Dessie Hughes  2/5F  5
1974  Tamalin     7-11-09 T Metcalfe   Gordon Richards Jonjo O'Neill  9/4  7
1973  Dunrobin  6-11-05 Wing-Commander R Stevenson  Bill Crawford S P Taylor  4/5F  6
1972  Coxswain   7-11-10 Major E Cliff-McCulloch   Arthur Stephenson  Mr Graham Macmillan 4/5F  8
1971  Abandoned - snow and frost
1970  Kildrummy    5-11-07 Mrs M Milne Green  Bill Crawford Ron Barry  100/30  8
1969  Arcturus     8-11-10 Lady Hay    Neville Crump  Pat Buckley 11/4  3