---
Sun Bets Stayers' Hurdle

Grade 1, Cheltenham 15:30
£325,000 added,
4yo plus,
2m 7f 213y, Class 1
Thursday 15th March 2018
Yanworth - set for the Stayers' Hurdle... pic.twitter.com/bKiQ3fOM4l

— At The Races (@AtTheRaces) February 20, 2018
Rising star Sam Spinner is among 26 acceptors for the G1 Sun Bets Stayers' Hurdle, with boosted prize money of £325,000, over three miles at Cheltenham on the third day of The Festival, St Patrick's Thursday, March 15.
Sam Spinner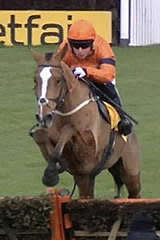 Sam Spinner (Jedd O'Keeffe) propelled himself into the reckoning for the staying hurdling highlight by making all for a relentless two and three-quarter length victory in the G1
Long Walk Hurdle
at Ascot on December 23.
The unexposed six-year-old, who has won five of his seven starts over hurdles, demolished rivals in the same style in the valuable G3
Betfair Stayers' Handicap Hurdle
at Haydock Park in November.
Former Willie Mullins-trained runner 
Diakali
  has been handed an entry by his new trainer Gary Moore. A dual G1 winner as a four-year-old at Punchestown and Auteuil in 2013, Diakali was also a close third behind 
The New One
 (Nigel Twiston-Davies) in the
2014 G1 Aintree Hurdle
.
Diakali did not race for almost two years because of injury, but looked to retain plenty of ability on his final start for Mullins when taking a two-mile conditions hurdle by 20 lengths at Fairyhouse in April.
Sussex-based Moore said of the nine-year-old: "Diakali is a bit of a character and has been with me for about three months now.

"He was a class horse when Willie Mullins trained him, although whether he will be now is a different matter. 
"In the mornings, he is still showing plenty of ability and enthusiasm for the job and, at the moment, I am very happy with him.

"The plan is for him to run at Sandown on February 3 or if he doesn't go there, he will go straight to the National Spirit Hurdle at Fontwell on February 25.
"The Sun Bets Stayers' Hurdle entry looks ambitious, but it is an open division and his first run should tell us more about the horse."
Finian's Oscar
 (Colin Tizzard) and 
Yanworth
(Alan King) have been plying their trade in novices' chases so far this season. Both horses were successful at the top level over hurdles last season.
Last year's runner-up 
Lil Rockerfeller
 (Neil King), successful in the G2
Ascot Hurdle
in November, and 
The Worlds End
 (Tom George), a G1-winning novice at Aintree last season, are also still engaged.
Ladbrokes World Hurdle
£300,000 added, 4yo plus, 2m 7f 213y, Class 1
26 remaining entries
£15,000 supplementary entry stage & six-day confirmation stage March 9, final declarations 10am, March 13.
| | | | |
| --- | --- | --- | --- |
| Horse | Age | Owner | Trainer |
| APPLE'S JADE (FR) | 6 | Gigginstown House Stud | Gordon Elliott IRE |
| AUGUSTA KATE | 7 | The Masters Syndicate | Willie Mullins IRE |
| BACARDYS (FR) | 7 | Shanakiel Racing Syndicate | Willie Mullins IRE |
| BALLYOPTIC (IRE) | 8 | Mills & Mason Partnership | Nigel Twiston-Davies   |
| COLIN'S SISTER | 7 | Caroline Beresford-Wylie | Fergal O'Brien   |
| DIAKALI (FR) | 9 | Nick Peacock | Gary Moore   |
| FAUGHEEN (IRE) | 10 | Susannah Ricci | Willie Mullins IRE |
| FINIAN'S OSCAR (IRE) | 6 | Ann & Alan Potts Limited | Colin Tizzard   |
| JER'S GIRL (IRE) | 6 | J P McManus | Gavin Cromwell IRE |
| KNIGHT OF NOIR (IRE) | 9 | W Clifford | Neil Mulholland   |
| LA BAGUE AU ROI (FR) | 7 | Mrs Julien Turner & Andrew Merriam | Warren Greatrex   |
| L'AMI SERGE (IRE) | 8 | Simon Munir & Isaac Souede | Nicky Henderson   |
| LET'S DANCE (FR) | 6 | Susannah Ricci | Willie Mullins IRE |
| LIEUTENANT COLONEL | 9 | Gigginstown House Stud | Gordon Elliott IRE |
| LIL ROCKERFELLER (USA) | 7 | Davies Smith Govier & Brown | Neil King   |
| MONALEE (IRE) | 7 | Barry Maloney | Henry de Bromhead IRE |
| OLD GUARD | 7 | The Brooks, Stewart Families & J Kyle | Paul Nicholls   |
| PENHILL | 7 | Tony Bloom | Willie Mullins IRE |
| SAM SPINNER | 6 | Caron & Paul Chapman | Jedd O'Keeffe   |
| SUPASUNDAE | 8 | Ann & Alan Potts Limited | Jessica Harrington IRE |
| THE NEW ONE (IRE) | 10 | S Such & CG Paletta | Nigel Twiston-Davies   |
| THE WORLDS END (IRE) | 7 | McNeill Family | Tom George   |
| THOMAS CAMPBELL | 6 | Mrs Van Geest & Lizzie Kelvin Hughes | Nicky Henderson   |
| UNOWHATIMEANHARRY | 10 | J P McManus | Harry Fry   |
| WHOLESTONE (IRE) | 7 | Simon Munir & Isaac Souede | Nigel Twiston-Davies   |
| YANWORTH | 8 | J P McManus | Alan King  |
WORLD HURDLE PAST RESULTS
2017 NICHOLS CANYON 7-11-10 Owner-Andrea & Graham Wylie; Trainer-Willie Mullins IRE; Jockey-Ruby Walsh; SP-10/1
2ND-Lil Rockerfeller 6-11-10 Owner-Davies Smith Govier & Brown; Trainer-Neil King; Jockey-Trevor Whelan; SP-33/1
3RD-Unowhatimeanharry 9-11-10 Owner-J P McManus; Trainer-Harry Fry; Jockey-Noel Fehily; SP-5/6 Fav
12 ran, Time-5m 49.60s; Dist-3⁄4, 31⁄2
2016 THISTLECRACK 8-11-10 Owner-John & Heather Snook; Trainer-Colin Tizzard; Jockey-Tom Scudamore; SP-Evens Fav
2ND-Alpha Des Obeaux 6-11-10 Owner-Gigginstown House Stud; Trainer-Mouse Morris IRE; Jockey-Bryan Cooper; SP-8/1
3RD-Bobs Worth 11-11-10 Owner-The Not Afraid Partnership; Trainer-Nicky Henderson; Jockey-David Bass; SP-33/1
12 ran, Time-5m 42.60s; Dist-7, 22
2015-COLE HARDEN 6-11-10 Owner-Jill & Robin Eynon; Trainer-Warren Greatrex; Jockey-Gavin Sheehan; SP-14/1
2ND-Saphir Du Rheu 6-11-10 Owner-The Stewart Family; Trainer-Paul Nicholls; Jockey-Sam Twiston-Davies; SP-5/1 Fav
3RD-Zarkandar 8-11-10 Owner-Chris Giles & Potensis Bloodstock Ltd; Trainer-Paul Nicholls; Jockey-Noel Fehily; SP-6/1
16 ran, Time-5m 40.70s; Dist-3¼, 3¼
2014-MORE OF THAT 6-11-10 Owner-J P McManus; Trainer-Jonjo O'Neill; Jockey-Barry Geraghty; SP-15/2
2ND-Annie Power 6-11-03 Owner-Susannah Ricci; Trainer-Willie Mullins IRE; Jockey-Ruby Walsh; SP-11/8 Fav
3RD-At Fishers Cross 7-11-10 Owner-J P McManus; Trainer-Rebecca Curtis; Jockey-A P McCoy; SP-9/1
10 ran, Time-5m 49.50s; Dist-1½, 5
2013-WINNER-SOLWHIT 9-11-10 Owner-Top Of The Hill Syndicate; Trainer-Charles Byrnes IRE; Jockey-Paul Carberry; SP-17/2
2ND-Celestial Halo 9-11-10 Owner-The Stewart Family; Trainer-Paul Nicholls; Jockey-Daryl Jacob; SP-40/1
3RD-Smad Place 6-11-10 Owner-Mrs Peter Andrews Trainer-Alan King; Jockey-Wayne Hutchinson; SP-9/1
13 ran, Time-6m 24.94s; Dist-2½, 3 9/4 Fav Oscar Whisky (PU)
2012-WINNER-BIG BUCK'S 9-11-10 Owner-The Stewart Family; Trainer-Paul Nicholls; Jockey-Ruby Walsh; SP- 5/6F
2ND-Voler La Vedette 8-11-03 Owner-Mrs M Brophy; Trainer-Colm Murphy IRE; Jockey-Andrew Lynch; SP-20/1
3RD-Smad Place 5-11-10 Owner-Mrs Peter Andrews; Trainer-Alan King; Jockey-Robert Thornton; SP-20/1
11 ran, Time-5m 44.20s; Dist-1¾, 7
2011-WINNER-BIG BUCK'S 8-11-10 Owner-The Stewart Family; Trainer-Paul Nicholls; Jockey-Ruby Walsh; SP- 10/11F
2ND-Grands Crus 6-11-10 Owner-Roger Stanley & Yvonne Reynolds III; Trainer-David Pipe; Jockey-Tom Scudamore; SP-7/2 3RD-Mourad 6-11-10 Owner Teahon Consulting Limited; Trainer-Willie Mullins IRE; Jockey-Paul Townend; SP-8/1
13 ran, Time-5m 50.80s; Dist-13⁄4, 23⁄4
2010-WINNER-BIG BUCK'S 7-11-10 Owner-The Stewart Family; Trainer-Paul Nichols; Jockey-Ruby Walsh; SP-5/6 Fav
2ND-Time For Rupert 6-11-10 Owner-Littlecote Racing Partnership; Trainer-Paul Webber; Jockey-Will Kennedy; SP-16/1
3RD-Powerstation 10-11-10 Owner-Fat Frog Syndicate; Trainer-Eamon O'Connell IRE; Jockey-Andrew McNamara; SP-33/1
14 ran, Time-5m 49.40s; Dist-3.25, 11
2009-WINNER-BIG BUCK'S 6-11-10 Owner-The Stewart Family; Trainer-Paul Nicholls; Jockey-Ruby Walsh; SP-6/1
2ND-Punchestowns 6-11-10 Owner-Judy Wilson; Trainer-Nicky Henderson; Jockey-Barry Geraghty; SP-100/30
3RD-Powerstation 9-11-10 Owner-Fat Frog Syndicate; Trainer-Eamon O'Connell IRE; Jockey-Andrew McNamara; SP-25/1
14 ran, Time 5m 57.00s; Dist 1.75, 17 10/11 Fav Kasbah Bliss (4th)
2008-WINNER-INGLIS DREVER 9-11-10 Owner-Andrea & Graham Wylie; Trainer-Howard Johnson; Jockey-Denis O'Regan; SP-11/8 Fav
2ND-Kasbah Bliss 6-11-10 Owner-Henri De Pracomtal; Trainer-Francois Doumen FR; Jockey-Christophe Pieux; SP-9/1
3RD-Kazal 7-11-10 Owner- Joseph Comerford; Trainer-Eoin Griffin IRE; Jockey-Barry Geraghty; SP-12/1
17 ran, Time-5m 52.90s; Dist-1, 7
2007-WINNER-INGLIS DREVER 8-11-10 Owner-Andrea & Graham Wylie; Trainer-Howard Johnson; Jockey-Paddy Brennan; SP-5/1
2ND-Mighty Man 7-11-10 Owner-Joss Hanbury; Trainer-Henry Daly; Jockey-Richard Johnson; SP-100/30
3RD-Blazing Bailey 5-11-10 Owner-Three Line Whip; Trainer-Alan King; Jockey-Robert Thornton; SP-8/1
14 ran, Time-5m 46.50s; Dist-3/4, 4 2/1 Fav Black Jack Ketchum (Fell)
2006-WINNER-MY WAY DE SOLZEN 6-11-10 Owner-B Winfield, A Longman, J Wright & C Fenton; Trainer-Alan King; Jockey-Robert Thornton; SP-8/1
2ND-Golden Cross 7-11-10 Owner-P Johnson; Trainer-Michael Halford IRE; Jockey-Johnny Murtagh; SP-5/1
3RD-Mighty Man 6-11-10 Owner-Joss Hanbury; Trainer-Henry Daly; Jockey-Richard Johnson; SP-4/1 Fav
20 ran, Time-5m 38.40s; Dist-hd, 4
2005-WINNER-INGLIS DREVER 6-11-10 Owner-Andrea & Graham Wylie; Trainer-Howard Johnson; Jockey-Graham Lee; SP-5/1
2ND-Baracouda 10-11-10 Owner-J P McManus; Trainer-Francois Doumen FR; Jockey-Tony McCoy; SP-6/5 Fav
3RD-Rule Supreme 9-11-10 Owner-John Fallon; Trainer-Willie Mullins IRE; Jockey-David Casey; SP-4/1
12 ran, Time-5m 48.40s; Dist-3, 3/4
2004-WINNER-IRIS'S GIFT 7-11-10 Owner-Robert Lester; Trainer-Jonjo O'Neill; Jockey-Barry Geraghty; SP-9/2
2ND-Baracouda 9-11-10 Owner-J P McManus; Trainer-Francois Doumen FR; Jockey-Thierry Doumen; SP-8/11 Fav
3RD-Crystal D'Ainay 5-11-10 Owner-Tony & Jeni Fisher; Trainer-Alan King; Jockey-Robert Thornton; SP-8/1
10 ran, Time-5m 49.80s; Dist-1½, 13
2003-WINNER-BARACOUDA 8-11-10 Owner-J P McManus; Trainer-Francois Doumen FR; Jockey-Thierry Doumen; SP-9/4 Jt Fav
2ND-Iris's Gift 6-11-10 Owner-Robert Lester; Trainer-Jonjo O'Neill; Jockey-Barry Geraghty; SP-7/1
3RD-Limestone Lad 11-11-10 Owner-James Bowe; Trainer-James Bowe IRE; Jockey-Paul Carberry; SP-9/4 Jt Fav
11 ran, Time-5m 41.25s; Dist- 3/4, 5
2002-WINNER-BARACOUDA 7-11-10 Owner-J P McManus; Trainer-Francois Doumen FR; Jockey-Thierry Doumen; SP-13/8 Fav
2ND-Bannow Bay 7-11-10 Owner-Linda Shanahan and Sue Magnier; Trainer-Christy Roche IRE; Jockey-Charlie Swan; SP-2/1
3RD-It Takes Time 8-11-10 Owner-David Johnson; Trainer-Martin Pipe; Jockey-Tony McCoy; SP-12/1
16 ran, Time-6m 01.70s; Dist-nk, 13
2001 Cancelled
2000-WINNER-BACCHANAL 6-11-10 Owner-Lady Lloyd-Webber; Trainer-Nicky Henderson; Jockey-Mick Fitzgerald; SP-11/2
2ND-Limestone Lad 8-11-10 Owner-James Bowe; Trainer-James Bowe IRE; Jockey-Shane McGovern; SP-3/1
3RD-Behrajan 5-11-10 Owner-The Behrajan Partnership; Trainer-Henry Daly; Jockey-Richard Johnson; SP-8/1
10 ran, Time-5m 36.60s; Dist-1, 3 5/2 Fav Lady Rebecca (6th)
1999-WINNER-ANZUM 8-11-10 Owner-The Old Foresters Partnership; Trainer-David Nicholson; Jockey-Richard Johnson; SP-40/1
2ND-Le Coudray 5-11-10 Owner-J P McManus; Trainer-Aidan O'Brien IRE; Jockey-Charlie Swan; SP-2/1 Jt-Fav
3RD-Lady Rebecca 7-11-05 Owner-Kinnersley Optimists; Trainer-Venetia Williams; Jockey-Norman Williamson; SP-3/1
12 ran, Time-5m 51.7s; Dist-nk, 2½ 2/1 Jt-Fav Deano's Beeno (9th)
1998-WINNER-PRINCEFUL 7-11-10 Owner-Robert Hitchins; Trainer-Jenny Pitman; Jockey-Rodney Farrant; SP-16/1
2ND-Splendid Thyne 6-11-10 Owner-John Glavanoni; Trainer-Terry Casey; Jockey-Warren Marston; SP-10/1
3RD-Ocean Hawk 6-11-10; Owner-Matt Archer & Jean Broadhurst; Trainer-Nigel Twiston-Davies; Jockey-Carl Llewellyn; SP-5/1 9 ran, Time-5m 45.9s; Dist-2, 4 6/4 Fav Paddy's Return (5th)
1997-WINNER-KARSHI 7-11-10 Owner-Lord Vestey; Trainer-Henrietta Knight; Jockey-Jamie Osborne; SP-20/12ND-Anzum 6-11-10 Owner-The Old Foresters Partnership; Trainer-David Nicholson; Jockey-Richard Johnson; SP-25/1
3RD-Paddy's Return 5-11-10 Owner-Paddy O'Donnell; Trainer-Ferdy Murphy; Jockey-Richard Hughes; SP-20/1
17 ran, Time-5m 43.9s, Dist-2½, 2 9/2 Fav Escartefigue (5th)
1996-WINNER-CYBORGO 6-11-10 Owner-County Stores (Somerset) Ltd; Trainer-Martin Pipe; Jockey-David Bridgwater; SP-8/1
2ND-Mysilv 6-11-05 Owner-Elite Racing Club; Trainer-Charlie Egerton; Jockey-Jimmy McCarthy; SP-16/1
3RD-What A Question 8-11-05 Owner-Joy Valentine; Trainer-Mouse Morris IRE; Jockey-Conor O'Dwyer; SP-33/1
19 ran, Time-5m 47.3s, Dist-3/4, 10 4/1 Fav Derrymoyle (4th)
LADBROKES WORLD HURDLE ROLL OF HONOUR
(Ladbrokes World Hurdle from 2005, bonusprint.com Stayers' Hurdle 2004, Bonusprint Stayers' Hurdle 1991-2003, Waterford Crystal Stayers' Hurdle 1978-90, Lloyds Bank Hurdle 1972-77)
Year Winner Age/Wt Jockey Trainer Owner SP Ran
1995 Dorans Pride 6-11-10 Shane Broderick Michael Hourigan IRE Tom Doran 11/4F 11
1994 Balasani 8-11-10 Mark Perrett Martin Pipe Mark Smith 9/2JF 14
1993 Shuil Ar Aghaidh7-11-05 Charlie Swan Paddy Kiely IRE Mrs Paddy Kiely 20/1 12
1992 Nomadic Way 7-11-10 Jamie Osborne Barry Hills Robert Sangster 15/2 17
1991 King's Curate 7-11-10 Mark Perrett Stan Mellor C J Ells 5/2F 15
1990 Trapper John 6-11-10 Charlie Swan Mouse Morris IRE Jill Fanning 15/2 22
1989 Rustle 7-11-10 Michael Bowlby Nicky Henderson Robert Waley-Cohen 4/1 21
1988 Galmoy 9-11-10 Tommy Carmody John Mulhern IRE Miss D Threadwell 2/1F 16
1987 Galmoy 8-11-10 Tommy Carmody John Mulhern IRE Miss D Threadwell 9/2 14
1986 Crimson Embers 11-11-10 Stuart Shilston Fulke Walwyn Sally Smart 12/1 19
1985 Rose Ravine 6-11-05 Ricky Pusey Fulke Walwyn Sally Smart 5/1F 22
1984 Gaye Chance 9-11-10 Sam Morshead Mercy Rimell Mary Curtis 5/1 14
1983 A Kinsman 7-11-12 Geordie Dun John Brockbank Mrs John Brockbank 50/1 21
1982 Crimson Embers 7-11-12 Stuart Shilston Fulke Walwyn Sally Smart 2/1F 11
1981 Derring Rose 6-11-12 John Francome Fred Winter Peter Savill 3/1 14
1980 Mountrivers 6-11-12 Tommy Ryan Edward O'Grady IRE B Burser 7/1 19
1979 Lighter 6-11-12 Philip Blacker John Edwards G Smith 14/1 14
1978 Flame Gun 6-11-12 Mr Niall Madden Edward O'Grady IRE Mary Kenny 14/1 13
1977 Town Ship 6-11-12 Tommy Carberry Peter Easterby Pat Muldoon 5/2 11
1976 Bit Of A Jig 8-11-12 Dessie Hughes Mick O'Toole IRE Mrs Mick O'Toole 2/1F 12
1975 Brown Lad 9-11-12 Tommy Carberry Jim Dreaper IRE Mrs Peter Burrell 7/4F 12
1974 Highland Abbe 8-11-12 Richard Smith Les Kennard Mrs K Hankey 15/2 15
1973 Moyne Royal 8-11-12 David Mould Arthur Pitt E Cook 10/1 8
1972 Parlour Moor 8-11-12 Macer Gifford Tom Jones Charlotte Monckton 13/2 11