Bertie's Blog

The Grand National Lottery
Friday 2nd February 2018
It's a horse race like no other, and some would say you'd be better off buying a lottery ticket, but surely it can be worked out, can't it?
Last year it was quite a simple process. My pub quiz team mate Arthur spotted that there was a horse running called One For Arthur, so the whole team invested, and we drank most of the proceeds the following quiz night.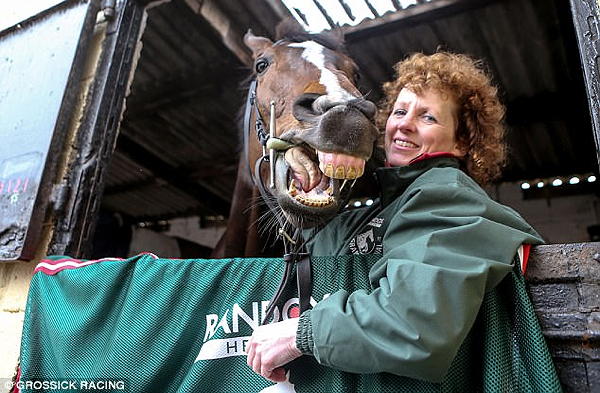 One For Arthur with trainer Lucinda Russell
© Grossick Photography
Most ordinary punters pick their selections in a similar fashion and for all sorts of different reasons, crossing their fingers in the process. It's a bit like buying lottery tickets, especially if you know nothing about horseracing, and I've had the same two lines of numbers in the National Lottery since day one and strive to find the winning numbers of the EuroJackpot lottery, but I'm yet to discover the proverbial pot of gold.
One For Arthur wasn't named after my mate, but after Arthur Guinness, Ireland's most famous brewer, and we toasted his health with gusto.
There always seems to a story surrounding the winner of the Grand National. Jockey Derek Fox rode One For Arthur to victory just one month after breaking his left wrist and right collarbone and only recovered in time to take the ride.
I'd had a few lean years as far as finding the winner was concerned, my previous success being Mon Mome in 2009. Mon Mome came in at a staggering 100/1 and my fiver each way paid for quiz night refreshments for a good few months afterwards.
Mon Mome was the first at such a price to win since Foinavon in 1967 race, a freak event if ever there was one, and there hasn't been a longer-priced winner in the race's 162 runnings.
My first memory of the Grand National was Red Alligator winning in 1968 and the word red has featured prominently in my selections over the years.
My biggest success, and one that I'm particularly proud of, was backing Red Marauder to win in 2001. On this occasion, this wasn't me simply plumping for the rouge angle and hoping for the best, but a careful analysis of the form as far as ground conditions were concerned.
In the days leading up to the race, the weather had been appalling, and the going was described as heavy, going on desperate. With this in mind, I trawled through the form to find horses that had won in similar conditions, and Red Marauder came top of my list.
Voila! It's not always about cute names and pin-sticking!
Good Luck,
Bertie