Becauseicouldntesee On Course for Biggest Test
01/02/12
Many of the best chasers in training are among the entries announced today for the 2012 running of the world's most famous Jump race, the John Smith's Grand National.
This year's contest, taking place at Aintree on Saturday, April 14, has record prize money of £975,000 and among those engaged are Synchronised (16/1 co-favourite with Betfred), a runaway winner of the Grade One Lexus Chase at Leopardstown on December 28, Weird Al, who captured the Grade Two Charlie Hall Chase at Wetherby in October, and Midnight Chase, successful in the Grade Two Argento Chase at Cheltenham on Saturday.
Past Aintree form is understandably well represented and the 2011 winner, Weird Al's stablemate Ballabriggs (16/1 co-favourite with Betfred), is one of two previous John Smith's Grand National heroes in the field along with Mon Mome, who sprang a 100/1 surprise in 2009.
No less than 31 of the 82 entries are trained in Ireland and the country's champion trainer Willie Mullins, successful in the 2005 John Smith's Grand National with Hedgehunter, accounts for 12 of those including Apt Approach, winner of the Grade Two Kinloch Brae Chase at Thurles on January 19.
The Midnight Club


© racing-images.co.uk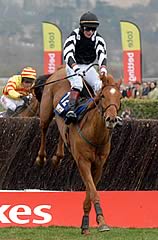 On His Own, a facile winner of the Goffs Thyestes Chase on January 26, Quel Esprit, who captured the Grade Three Phil Sweeney Memorial Chase at Thurles on January 7, and The Midnight Club, who finished sixth when sent off favourite for last year's John Smith's Grand National, are also among the Mullins dozen.

County Clare handler Noel Glynn is hoping that Becauseicouldntsee, (33/1 with Betfred) who fell at the second fence in last year's John Smith's Grand National, can fare considerably better in the 2012 race over four and a half miles and 30 fences.

The nine-year-old is set to run in the National Trial at Punchestown on Sunday as a stepping stone to Aintree.

Glynn reported: "The John Smith's Grand National is the plan again for Becauseicouldntsee and I hope that we get a bit further than last year! Hopefully, he will run in the National Trial at Punchestown on Sunday and we will take it from there.

"For such a good jumper, he had two nasty falls last year including at Leopardstown over Christmas, when he would have been there or thereabouts. He hurt his hip during that race but it's all sorted now and he is moving good.

"I am just a little afraid that those falls might have affected him mentally, so I am just hoping that he can post a clear round on Sunday to get his confidence back.

"He had no sort of preparation for Aintree last season after suffering a cut leg and we would love to get him back there."

Other Irish-trained entries include the Shark Hanlon-trained Alfa Beat, who was bought for £75,000 in May by America's champion Jump owner Irv Naylor as a John Smith's Grand National prospect. The eight-year-old won the Kerry National at Listowel in September.

The Arthur Moore-trained Organisedconfusion won the 2011 Irish Grand National at Fairyhouse, while the rapidly-improving Seabass, winner of the Grade A Leopardstown Handicap Chase on Saturday, has been entered by trainer Ted Walsh, who landed the 2000 John Smith's Grand National with Papillon.

Somerset-based handler David Pipe won the 2008 John Smith's Grand National with Comply Or Die and he is responsible for Junior (16/1 co-favourite with Betfred), who missed the cut for last year's contest.

The Henrietta Knight-trained Calgary Bay and Shakalakaboomboom from Nicky Henderson's stable are a progressive duo who filled the first two places in Saturday's Sky Bet Chase at Doncaster.

Hold On Julio, a late withdrawal from the Sky Bet Chase, has easily won both his starts for trainer Alan King, who has also engaged West End Rocker, winner of the Betfred Becher Chase over the National fences at Aintree on December 3.

Others with winning form over the National fences include Always Waining, winner of the John Smith's Topham Chase in 2010 and 2011, and Stewarts House, winner of the Betfred Grand Sefton Handicap Chase in December.

Le Beau Bai, winner of the Coral Welsh National at Chepstow on December 27, has been engaged along with Giles Cross and the Evan Williams-trained Cappa Bleu, who respectively finished second and third in the race. Cappa Bleu's stablemate State Of Play, who has respectively finished fourth, third and fourth in the 2009, 2010 and 2011 John Smith's Grand Nationals, is on course to appear again at Aintree this year.

Meanwhile, high-class hunter-chaser Roulez Cool, owned, trained and bred by Robert Waley-Cohen and ridden by his son Sam, could carry the colours of last year's runner-up Oscar Time.

The 2012 John Smith's Grand National will be the first renewal since entry requirements were tightened. Only horses aged seven or above can now compete and every runner must have been placed in the first four of a chase of three miles or more by March 20 and be rated 120 or above.

A maximum field of 40 again looks assured for this year's race with all of the runners likely to be in the handicap.

Julian Thick, Managing Director at Aintree Racecourse, commented: "The build-up really gets underway for the 2012 John Smith's Grand National with today's publication of entries.

"We are delighted to see so many proven top-class chasers and winners of high-profile races engaged alongside a whole host of progressive younger horses in an entry that boasts great strength in depth.

"The number of entries is down on last year, but we believe that this is a testament to the status of the race these days. Owners and trainers are now taking a more selective approach to the horses they enter, as the increasing quality of the runners we attract to the John Smith's Grand National means that lower rated horses no longer have any prospect of a run. The list of horses entered this year reinforces that fact and suggests we can look forward to a stunning renewal on April 14."

The weights for the 2012 John Smith's Grand National, compiled especially for the race by British Horseracing Authority Head of Handicapping Phil Smith, are announced at the Grand National Launch in London on Tuesday, February 14.

The two scratchings deadlines are on February 28 and March 20 with a five-day confirmation stage on April 9. The final declaration stage is at 10am on April 12 with a provision for four reserves.

THE 2012 JOHN SMITH'S GRAND NATIONAL

Class 1, Grade 3, £975,000 total prize fund. 4.15pm, Aintree, Saturday, April 14, 2012, four miles and four furlongs. For seven-year-olds and upwards who, up to and including March 20, 2012, have been placed first, second, third or fourth in a chase of three miles or more and which are allotted a rating of 120 or more by the BHA Head of Handicapping following a review of the horses entered and after taking account of races run up to and including February 12, 2012. Horses who are not qualified for a rating in Great Britain or Ireland at closing may also be entered. Such horses may be eligible for a weight providing the handicapper is satisfied that the horse's racecourse performances up to and including February 12 would merit a minimum rating of 120. To qualify, horses must have run at least three times in chases run under the Rules of Racing of the same Recognised Racing Authority up to and including February 12, 2012. At the handicapper's discretion, such horses may be allocated a rating. The decision of the BHA Head of Handicapping shall be final. The British Horseracing Authority has modified Rule (F)42.2.1 for the purposes of this race, such that racecourse performances up to and including Sunday, February 12, may be taken into account. A novice horse shall only be qualified to run in this race if it has run a minimum of three times in chases in Great Britain, Ireland or France in accordance with Rule (F)42.5. Highest weight 11st 10lb - no penalties after publication of the weights. Entries closed January 31, entries revealed February 1 (82 entries), weights revealed February 14, first scratchings deadline February 28, second scratchings deadline March 20. Five-day confirmation stage April 9, final declaration stage 10.00am, April 12. Maximum field size of 40, plus four reserves. Form figures supplied by Weatherbys and are correct up to and including the racing of Monday, January 30.

Form Horse Age Owner Trainer

2/31P/-FP ABBEYBRANEY (IRE) 11 Sue Johnson George Bewley

22-3011 ACCORDING TO PETE 11 Peter Nelson Malcolm Jefferson

F-6041U ALFA BEAT (IRE) 8 Irvin Naylor John Hanlon IRE

2113-1P ALWAYS RIGHT (IRE) 10 John Wade John Wade

041-044 ALWAYS WAINING (IRE) 11 Mr & Mrs Peter James Douglas Peter Bowen

6-12026 ANOTHER PALM (IRE) 7 M J M Racing Syndicate Noel Meade IRE

32-3P40 ANY CURRENCY (IRE) 9 Cash Is King Martin Keighley

2-FU111 APT APPROACH (IRE) 9 Greenstar Syndicate Willie Mullins IRE

0P2F-60 ARBOR SUPREME (IRE) 10 J P McManus Jonjo O'Neill

P/5000-P BACKSTAGE (FR) 10 MPR & Capranny Syndicate Gordon Elliott IRE

11/1121- BALLABRIGGS (IRE) 11 Trevor Hemmings Donald McCain

12-20P3 BALLYVESEY (IRE) 7 Roddy Owen & Paul Fullagar Peter Bowen

42F-63F BECAUSEICOULDNTSEE (IRE) 9 Noel Glynn Noel Glynn IRE

51U/022/- BLACK APALACHI (IRE) 13 Gerard Burke Dessie Hughes IRE

143111 BLAZING TEMPO (IRE) 8 Susannah Ricci Willie Mullins IRE

11121/2- BURTON PORT (IRE) 8 Trevor Hemmings Nicky Henderson

2F-0511 CALGARY BAY (IRE) 9 Camilla Radford Henrietta Knight

3F2P/-13 CAPPA BLEU (IRE) 10 William & Angela Rucker Evan Williams

10-U303 CHICAGO GREY (IRE) 9 John Earls Gordon Elliott IRE

3/5P-230 COOLDINE (IRE) 10 Jackie Mullins Willie Mullins IRE

5U-P20P CRESCENT ISLAND (IRE) 9 Sarah Bays Jill Scott Sarah MacEchern Nigel Twiston-Davies

6/3U34-1 DEEP PURPLE 11 Paul Green Evan Williams

4-U2634 FAIR ALONG (GER) 10 Alan Peterson Philip Hobbs

3/P22-12 GILES CROSS (IRE) 10 KCMS Partnership Victor Dartnall

1P-1323 HECTOR'S CHOICE (FR) 8 James and Jean Potter Richard Lee

PP-5U65 HELLO BUD (IRE) 14 Seamus Murphy Nigel Twiston-Davies

PP//1-11 HOLD ON JULIO (IRE) 9 Mr & Mrs F Bell, N Farrell, A Marsh Alan King

431U0-P IN COMPLIANCE (IRE) 12 Dessie Hughes Dessie Hughes IRE

131/321- JUNIOR 9 Middleham Park Racing LI David Pipe

F-03034 KILLYGLEN (IRE) 10 David McCammon Stuart Crawford IRE

50-PP0F KING FONTAINE (IRE) 9 Trevor Hemmings Malcolm Jefferson

P-0P011 LE BEAU BAI (FR) 9 Glass Half Full Richard Lee

6/1155-6 LITTLE JOSH (IRE) 10 Tony Bloom Nigel Twiston-Davies

235/3/1-P MASSINI'S MAGUIRE (IRE) 11 Alan Peterson David Pipe

115-F31 MIDNIGHT CHASE 10 Lady Clarke Neil Mulholland

21/10P-1 MIDNIGHT HAZE 10 Kim Bailey Racing Partnership Kim Bailey

0P3-5U2 MINELLA THEATRE (IRE) 9 Middleham Park Racing XXIV & Dan Gilbert Lawney Hill

63F/-52P MON MOME (FR) 12 Vida Bingham Venetia Williams

106-P42 NEPTUNE COLLONGES (FR) 11 John Hales Paul Nicholls

30-3150 NEPTUNE EQUESTER 9 Koo's Racing Club Brian Ellison

F505-02 NICHE MARKET (IRE) 11 Graham Regan Paul Nicholls

500423- NORTHERN ALLIANCE (IRE) 11 Irish Rover Syndicate Tony Martin IRE

14P1-B1 ON HIS OWN (IRE) 8 Andrea & Graham Wylie Willie Mullins IRE

12-133F ORGANISEDCONFUSION (IRE) 7 Grace Dunlop Arthur Moore IRE

0-42026 OUR ISLAND (IRE) 7 David Fox Tim Vaughan

2130-F2 PEARLYSTEPS 9 The Glazeley Partnership Henry Daly

F01/35-2 PLANET OF SOUND 10 Charles Lloyd-Baker Philip Hobbs

FP-2661 POSTMASTER 10 The Bill & Ben Partnership Tim Vaughan

U5351-5 PRINCE DE BEAUCHENE (FR) 9 Andrea & Graham Wylie Willie Mullins IRE

0F2224 PSYCHO (IRE) 11 Exors of The Late C McClure Tony Martin IRE

R-120U3 QHILIMAR (FR) 8 Whites of Coventry & Stephen Dunn Charlie Longsdon

112-021 QUANTITATIVEEASING (IRE) 7 J P McManus Nicky Henderson

1FF-F11 QUEL ESPRIT (FR) 8 Red Barn Syndicate Willie Mullins IRE

2F-4010 QUISCOVER FONTAINE (FR) 8 J P McManus Willie Mullins IRE

PU-3450 RARE BOB (IRE) 10 D A Syndicate Dessie Hughes IRE

1U3043 ROBERTO GOLDBACK (IRE) 10 Seamus Dunne Dessie Hughes IRE

//U1/2B/1- ROULEZ COOL 9 Robert Waley-Cohen Robert Waley-Cohen

0/660-P4 SADDLERS STORM (IRE) 10 Billy Moffett, R T & J McLoughlin Tony Martin IRE

11PPP0 SCHINDLER'S GOLD (IRE) 10 Dr Richard & Laura Newland Dr Richard Newland

363144 SCOTSIRISH (IRE) 11 Double R Stables Syndicate Willie Mullins IRE

F11/-111 SEABASS (IRE) 9 Gunners Syndicate Ted Walsh IRE

000-112 SHAKALAKABOOMBOOM (IRE) 8 Liam Breslin Nicky Henderson

30/-003P SHAKERVILZ (FR) 9 Jackie Mullins Willie Mullins IRE

05-3410 SMOKING ACES (IRE) 8 J P McManus Tom Taaffe IRE

PP24U6 SOME TARGET (IRE) 8 Captain Conflict Syndicate Willie Mullins IRE

144/P3/4- STATE OF PLAY 12 William & Angela Rucker Evan Williams

P0-5121 STEWARTS HOUSE (IRE) 10 Double Trouble Partnership Tim Vaughan

03F-30P SUNNYHILLBOY (IRE) 9 J P McManus Jonjo O'Neill

2313P2 SWING BILL (FR) 11 David Johnson David Pipe

13-P031 SYNCHRONISED (IRE) 9 J P McManus Jonjo O'Neill

04-5060 TARTAK (FR) 9 David Fox Tim Vaughan

3100-01 TATENEN (FR) 8 The Stewart Family Richard Rowe

4-P1300 THARAWAAT (IRE) 7 Gigginstown House Stud Gordon Elliott IRE

3/216-B4 THE MIDNIGHT CLUB (IRE) 11 Susannah Ricci Willie Mullins IRE

312U5/5- THE PACKAGE 9 David Johnson David Pipe

P/P-5142 TREACLE (IRE) 11 Bjorn Nielsen Tom Taaffe IRE

140310 UNCLE JUNIOR (IRE) 11 Mrs M McMahon Willie Mullins IRE

0044B-2 VIC VENTURI (IRE) 12 J P Dunne Dessie Hughes IRE

00-143P VIKING BLOND (FR) 7 Caroline Mould Nigel Twiston-Davies

1/10P-13 WEIRD AL (IRE) 9 Brannon, Dennis, Dick, Holden Donald McCain

11PB-P1 WEST END ROCKER (IRE) 10 Barry Winfield & Tim Leadbeater Alan King

1P-6P60 WYMOTT (IRE) 8 Trevor Hemmings Donald McCain

82 entries

31 Irish-trained